Saudi Foreign Minister Adel al-Jubeir to visit Pakistan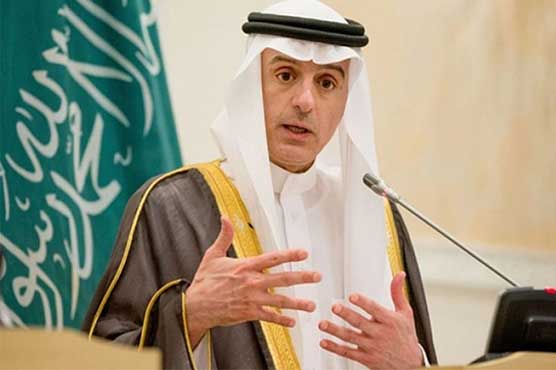 He will hold key meetings with Pakistani leadership, including Foreign Minister Shah Mahmood Qureshi
ISLAMABAD (Dunya News) – Saudi Foreign Minister (FM) Adel al-Jubeir is scheduled to visit Pakistan for a day-long official visit on Thursday to defuse tensions between nuclear-armed arch-rivals Pakistan and India.
According to ministry of foreign affairs, the Saudi foreign minister will hold key meetings with Pakistani leadership, including Foreign Minister Shah Mahmood Qureshi.
Besides, matters pertaining to the prevailing law and order situation and mutual interest will also be discussed during the meetings.
The Saudi FM was scheduled to visit Pakistan and India last week, however due to the 'warmongering' attitude of India, his visit had been postponed.
Pakistan FM Qureshi in his talk during the programme "Dunya Kamran Khan Kay Saath", disclosed that Adel al-Jubeir will visit Pakistan today (Thursday) for playing a constructive role in deescalating simmering tensions between Pakistan and India.
"God forbid, if India still chooses a path of aggression against Pakistan, Pakistan is ready for self-defense," he went on to say.
"Pakistan is moving towards development and prosperity, and we hope for peace in Afghanistan," he said, adding that Pakistan has given three 'signals' to India including return of Pakistan's High Commissioner to India Sohail Mahmood, who was recalled from New Delhi after the Pulwama attack.
He said Pakistan is ready to resume communication between Director Generals of Military Operations (DGMO) of both countries.
Concerning the upcoming general election 2019 in India, the FM said, "It is political compulsion of Narendra Modi as the ruling Bharatiya Janata Party (BJP) considers that it would lose vote bank if relations with Pakistan were improved. But, Pakistan will strive to facilitate the peace process in the region."
He said United States Secretary of State Mike Pompeo has been playing constructive role in defusing conflict between Pakistan and India.
Furthermore, he lauded China and Russia for offering mediation. "China is our friendly country and so they are consulted on various matters," he added.
He also expressed his gratitude to Turkish President Recep Tayyip Erdogan and King Abdullah II of Jordan.