Ceasefire violations by India shows its military ambitions: FO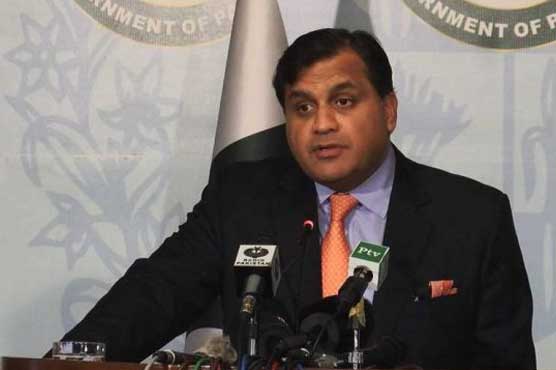 We remain convinced that an intra-Afghan dialogue will bring peace and stability in Afghanistan.
ISLAMABAD (Dunya News) – Foreign Office Spokesperson Dr Muhammad Faisal on Thursday said that the continued violation of ceasefire agreement by Indian forces along the Line of Control shows military ambitions of India.
Addressing weekly news briefing in Islamabad on Thursday, he said that India blamed Pakistan for ceasefire violations and the presence of border action team in Pakistan, adding that there is no such team in Pakistan.
Pakistan army is a responsible and professional force which protects the people of the country.
The spokesperson further said that Pakistan will continue to support and facilitate Afghan peace process in good faith and as part of shared responsibility, adding that the solution to the Afghan conflict lies in an Afghan-led and Afghan-owned peace process.
He said that US President s Special Representative on Peace and Reconciliation in Afghanistan, Zalmay Khalilzad is in Islamabad and he will have meetings with the Pakistani leadership to advance the Afghan peace process.
"We remain convinced that an intra-Afghan dialogue will lead to bringing peace and stability in Afghanistan," Dr Faisal said and added in our view, the intra-Afghan dialogue is crucial for success and sustainability of peace process in Afghanistan.
Regarding Kashmir issue, the FO spokesman said that Pakistan continues to lend a strong political, diplomatic and moral support to the people of Occupied Kashmir who are bearing the brunt of unabated Indian atrocities.
He said: "We strongly condemn the use of pallet guns and so-called search and cordon operations by the Indian forces against the innocent Kashmiris. He said the occupation forces in a new low are resorting to firing even on funerals and even the dead persons are not finding peace in Occupied Kashmir."
He said Pakistan s missions across the world continue to raise these gross human rights violations by Indian occupation forces with their interlocutors at the United Nations and other forums.