Population control is symbol of Pakistan's survival, says Chief Justice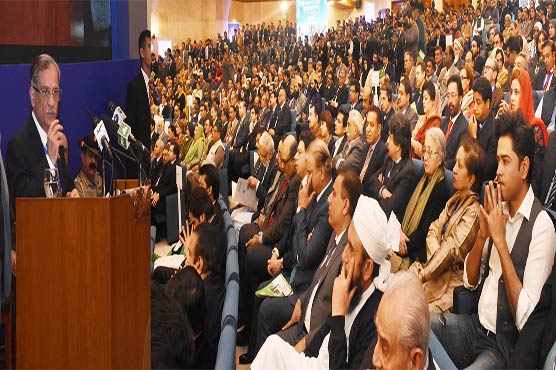 The CJP was addressing a symposium hosted in Supreme Court.
ISLAMABAD (Dunya News) – Chief Justice of Pakistan Mian Saqib Nisar warned on Wednesday that the population of the country will reach 450 million in next 30 years if not controlled timely.
While addressing a symposium hosted in Supreme Court (SC) on population control, the CJP maintained that the resources are limited in the country but population rate has risen significantly. He said the rapid rate of population is putting immense stress on our limited resources.
"We have to control the population. It is the symbol of Pakistan's survival. We have to take this issue seriously," Chief Justice emphasized.
He said essential resources like water are already facing pressure due to increased use by expanding population. He lamented that no attention was paid to build dams for the last 40 years.
Mian Saqib Nisar said we have to promote the better usage of water in the country to meet the requirements of burgeoning population.
He went on to say that knowledge is the foundation of any society.
"The nations who gained knowledge went through development while those who witmessed a fall lack education," CJP said.
He maintained that no attention was given to the system of water in the country. "Three-fourth of the water extracted from the ground goes wasted. In 2025, the water shortage in the country will take the form of crisis," he asserted.
"Prime Minister Imran Khan should investigate why no dam was built in the country in the last 40 years," said the CJP.
He said media can play an important role in spreading awareness about merits of less population for national development. He assured the government of judiciary s complete cooperation in implementing a Medina like state in Pakistan.
Matters regarding new demographic realities of Pakistan, family planning, mother and child's health and advocacy campaign for population planning in the country were discussed in the event.
Prime Minister Imran Khan, Maulana Tariq Jamil, Provincial chief ministers, judges of SC, ministers and other officials including Azad Jammu, Kashmir (AJK) Prime Minister Raja Farooq Haider legal fraternity, experts and government officials also attended the conference.