Party-Wise Electoral College Of Presidential Elections 2018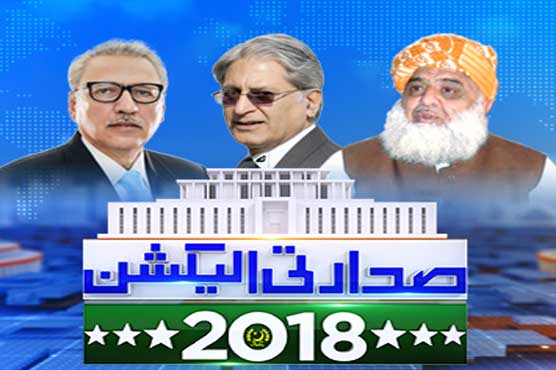 A minimum of 340 votes are required to win the Presidential elections 2018
(WebDesk) - Presidential Elections 2018 in Pakistan has entered into an interesting number game after the divided opposition fielded two candidates against the government candidate and against each other.
Pakistan Tehreek-e-Insaf led government alliance nominated a staunch PTI loyalist Arif Alvi, right after a week of the announcement of the official victory of PTI in general elections 2018. PPP on the other hand took a solo flight in announcing the candidature of PPP stalwart, a law expert and a veteran politician without having done the consensus with the remaining opposition.
On the other hand, despite many failed meetings and conversations over the joint candidate for the presidential elections 2018, opposition miserably failed in reaching any consensus. Hence, minus PPP, the PMLN led joint opposition has come up with the JUI F chief Molana Fazl ur Rehman as their joint candidate for the Presidential election scheduled to be held on September 04, 2018.
Also Read: Presidential elections: Joint opposition sans PPP sticks to Maulana Fazl ur Rehman
All of the three candidates for the Presidential elections are engaged in conversations with the parties to convince them to vote in their favour. Despite Pakistan Tehreek-e-Insaf since beginning claiming the majority and an easy win, PPP and PMLN led opposition are quite geared up.
Also Read: Opposition remains divided as presidential election takes place on Tuesday
The Electoral College of Presidential Election
The Electoral College for Presidential Elections usually comprises of 706 votes. As many of the seats in National as well as in Provincial assemblies are still vacated hence, the number of votes in the electoral collage has reduced to 679.
A minimum of 340 votes are required to win the Presidential elections 2018.
Also Read: PM likely to expand Federal Cabinet after presidential election
Formula for the constitution of vote for presidential election
For national Assembly, Senate and Baluchistan Assembly, each seat consider each vote whereas after dividing every assembly's constituents number with the total number of constituents of the smallest assembly (that is Baluchistan and has 65 seats), 5.70 number of Punjab Assembly members constitute one vote, 2.68 numbers of Sndh Provincial Assembly members constitute one vote and 1.90 number of KP Assembly constitutes one vote.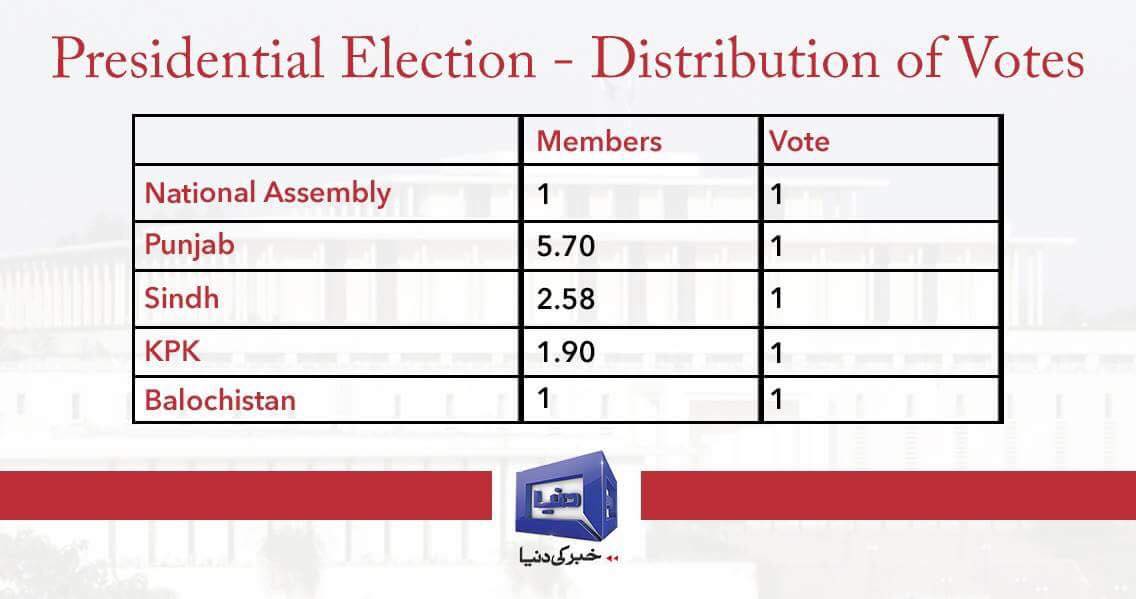 ---
The Number of Votes required to form the vote in the electoral college of Presidential election
The electoral college of the Presidential elections 2018 presently comprises of following number of votes in Parliaments and in provincial assemblies:
National Assembly has 330 seats which comprise 330 votes.
Senate has 104 seats thus 104 votes.
Punjab has 371 seats thus 5.70 members constitue 1 vote to acquire 65 votes from present attendance of Punjab assembly.
Sindh has 168 seats hence 2.68 members consider one vote constitute 65 votes.
KP has 110 seats thus 1.90 memebers form one vote for presidential elections.
Each member of Baluchistan Assembly considers each vote.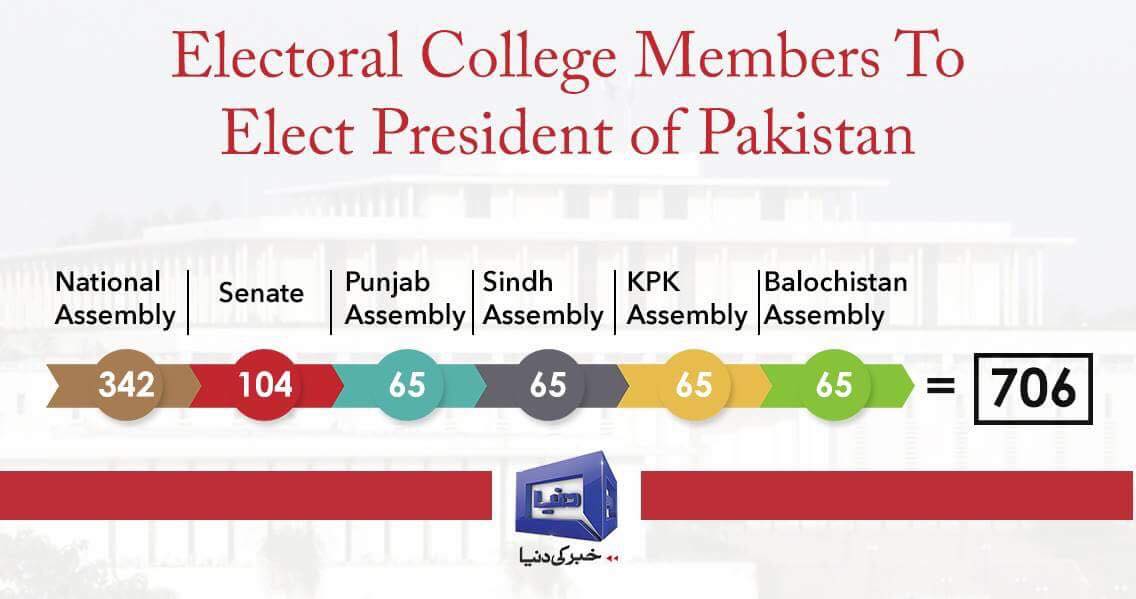 ---
Party Wise the Electoral College of Presidential Elections 2018
PTI led government coalition and Opposition Position in the electoral college
In National Assembly, PTI has 151 members and has 175 memebers in Punjab Assembly, 28 in Sindh Assembly, 74 memebers in KP Assembly and 7 in Balochistan Assembly.
PTI is expected to gain support of allies MQM, PMLN, AML, GDA, BAP and few other independents.
Also Read: Presidential election: PTI eyes support of independent lawmakers
MQM has 7 seats in NA, 5 in Senate and 20 in Sindh Assembly. Also GDA has 3 seats in NA and 14 in Sindh Assembly. PMLQ has 3 seats in NA whereas 10 seats in Punjab Assembly.
PTI has one sure vote of AML in NA. Two votes from JWP each from NA and Senate.
Also Read: Presidential election: BNP-M to reconsider support for PTI candidate
According to an initial evaluation of the PTI led government and its alliances vote bank in Provincial Assemblies, National Assembly and Senate constitute would be 356 votes which are quite enough numbers to pre-claim the victory as it surpasses the magic number of 340 votes required to win the Presidential elections in comparison with the 320 votes likely to be gained by the opposition which would later be divided into two candidates of PPP and PMLN led opposition alliance.
A detailed party wise representaion of the PTI led government coalition, PPP and PMLN led opposition's candidates in Presidential elections is given here:
---
From Dunya Election Cell
By Sohaib Marghoob and Mehreen Fatima