Presidential elections: Joint opposition sans PPP sticks to Maulana Fazl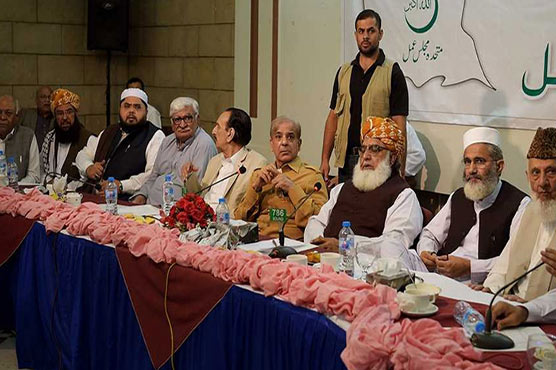 hah expressed hope that Maulana Fazlur Rehman would accept the request to withdraw
Presidential elections: Joint opposition sans PPP sticks to Maulana Fazl
LAHORE (Dunya News) – Pakistan Muslim League Nawaz (PML-N) leader and former speaker of National Assembly (NA) Sardar Ayaz Sadiq stated that a united opposition can cause an upset in the presidential elections.
Talking exclusively to Dunya News, Sadiq claimed that suggestion to support a joint opposition's candidate was still under consideration.
Sadiq stated that ball was in Pakistan Peoples Party's (PPP) court whereas he dispelled rumors of stalemate in negotiations with Zardari-led party.
On the other hand, PML-N president and former Punjab Chief Minister (CM) also shared same opinion.
---
PPP should ve agreed on joint opposition presidential pick: Fazl

---
Jamiat Ulema-e-Islam (JUI-F) chief Maulana Fazlur Rehman on Sunday said opposition parties had nominated him as their "joint candidate" for the slot of president.
The JUI-F chief who was flanked by leaders of the opposition parties, including Pakistan Muslim League-Nawaz (PML-N) President Shehbaz Sharif, said he wanted a candidate "mutually agreed on by the opposition" to contest the elections.
"The parties have expressed their confidence in me. I thank them for their support. PPP should've agreed on joint opposition's presidential candidate today as it is quite easy for them to withdraw their candidate," he added.
Former opposition leader in National Assembly Khursheed Shah earlier said that the option of two presidential candidates was in favour of the government.
He said that the PPP leadership, including co-chairman Asif Ali Zardari and Qamar Zaman Kaira, were supporting Chaudhry Aitzaz Ahsan
Shah expressed hope that Maulana Fazlur Rehman would accept the request to withdraw as candidate for the slot of president.
It is pertinent here to mention that the Election Commission of Pakistan (ECP) has announced to hold presidential elections on September 4.
Voting for the election will be held in the National Assembly and the four provincial assemblies from 10:00am to 4:00pm.