Imran Khan elected Pakistan's 22nd Prime Minister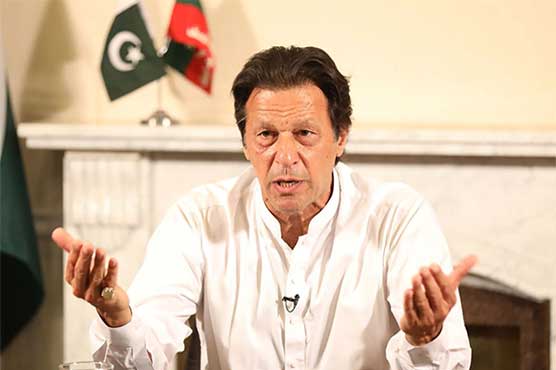 Contesting against Imran Khan was former Punjab CM and PML-N president Shahbaz Sharif
ISLAMABAD (Dunya News) – Pakistan Tehreek-e-Insaf (PTI) chairman Imran Khan has been elected 22nd Prime Minister of Pakistan, nearly 22 years after he started his struggle.
He received 176 votes as against 96 votes by his only rival Shahbaz Sharif of PML (N) at the voting held at Parliament House in Islamabad to elect Leader of the House in the National Assembly on Friday afternoon.
In a house of 342, the winning candidate was required to obtain at least 172 votes to become the Prime Minister.
Members of PTI and its allied parties greeted victory of Imran Khan with thumping of desks when Speaker Asad Qaiser declared the result after completion of voting process through division of house.
Khan, clad in a waistcoat and traditional white shalwar kameez garments, smiled broadly and could be seen wiping tears from his eyes while clutching prayer beads as the count was announced.
PPP members attended the session but abstained from voting.
Earlier, the session kicked off around 4:30pm with all lawmakers seated. Imran Khan arrived at parliament well ahead of the scheduled polling time.
Read More: Imran Khan s Struggle: From Cornered Tiger to Prime Minister
Before the process of election which is taking place through division, the Speaker read out the procedure for the election. Bells were rung for five minutes to allow Members of the National Assembly not present in the Chamber to be present.
---
Simple Oath-Taking Ceremony

---
The newly-elected prime minister Imran Khan had directed to stage the oath-taking event in simple manner.
The guests will be served with tea and biscuits in the oath-taking ceremony to be held at the Aiwan-e-Sadr (President House) Islamabad on August 18 (tomorrow).
Read Also: Imran Khan shakes hand with Shehbaz Sharif in NA
The PTI chief had also directed to avoid any unnecessary burden on the national exchequer in this regard.
Only a few close friends of Imran Khan have been invited. There will be no show of extravagance at the event.
---
Imran Khan s Victory Speech

---
On July 26, the Oxford-educated leader delivered his victory speech in Islamabad after his party Pakistan Tehreek-e-Insaf (PTI) emerged as the single largest party in the elections held on July 25, declaring himself as the new prime minister.
During his victory speech, Khan promised a welfare state system based on the British model.
Know More: Sidhu praises defiant Imran Khan on arrival in Pakistan
He also pledged to "strengthen institutions" and "increase income" in order to "get more taxes and benefit the country".
He said: "When I came into politics, I wanted Pakistan to become the kind of country that our leader Muhammad Ali Jinnah wanted. "This election is a historic election in Pakistan. In this election, people have sacrificed a lot.
Khan said: "I feel that this election has been the fairest in Pakistan's history. If any party has any doubts, we will open the results of those constituencies up for investigation."
---
Watch Live Streaming
---
Appearing calm, the 65-year-old promised to improve Pakistan's governance, widen the tax base and shun the VIP lifestyle of previous rulers. He said he would be "ashamed" to live in the lavish prime minister's house, and would turn it into an "educational institution".
In a statesmanlike address, Khan set out a grand vision for a new government that would end corruption in high places, protect the weak and ensure equal rights for all.
Khan also briefly described his foreign policy plans, saying he wanted to have "mutually beneficial" relations with the United States. In the past, he has strongly condemned the US deployment of drones to kill suspected Taliban extremists in the border areas of Pakistan.
---
Watch Imran Khan s Reaction after becoming PM
---
"We are facing governance and economic challenges. Our economy has never been so abysmal. It's because institutions have not been doing their jobs," he explained. "People are not investing in Pakistan. Another problem is unemployment; our youth does not have jobs. We will introduce a system that has never been implemented before, a kind of governance system that has not been seen before in this country," he promised.
Speaking about Afghanistan he said that this country has suffered most in the 'war on terror', and before that in the Afghan jihad. "Peace in Afghanistan means peace in Pakistan," he said, adding that he envisions open borders with Afghanistan reminiscent to those within the European Union.
The Chairman PTI said that he would not live in Prime Minister House. "Our government will decide what to do with Prime Minister House," he said. "That house along with governor houses will be converted into educational institutions or something of the sort," he said.
---
One-Man Crusade

---
For two decades, Khan has waged a one-man crusade against the Pakistani establishment. He started out giving anti-corruption speeches on sidewalks, then began staging mass rallies that were more like festivals. He ran for Parliament in 2013, winning 13 percent of the vote and building an enthusiastic young following. He challenged then-Prime Minister Sharif in court, accusing him of hiding wealth abroad, in a case that led Sharif to be barred from political office and sentenced to 10 years in prison.
This year, Khan again challenged the Sharif dynasty at the polls, running for an unprecedented five seats in Parliament from districts across the country. He won them all, even defeating former prime minister Shahid Khaqan Abbasi, a former top aide to Sharif, by a 2-to-1 margin. He has played down his own considerable wealth and often draws attention to a cancer hospital he built in Lahore, Pakistan, through his private charity.
---
The work begins
---
Khan and his Pakistan Tehreek-e-Insaf (PTI) party campaigned on promises to end widespread graft while building an "Islamic welfare state".
The party has already formed a government in its stronghold of Khyber Pakhtunkhwa province, and an alliance with regional parties in the southwestern province of Balochistan.
It is expected to form a coalition government in powerful Punjab province, formerly a PML-N stronghold, in coming days. Sindh province remained in the hands of the PPP.
PTI candidates were also voted speaker and deputy speaker of the National Assembly this week, putting Khan in a strong position to carry forward his legislative agenda.
He will face myriad challenges including militant extremism, water shortages, and a booming population negating growth in the developing country, among others.
Most pressing will be a looming economic crisis, with speculation that Pakistan will have to seek a bailout from the International Monetary Fund.