Imran Khan victory speech: Important points he highlighted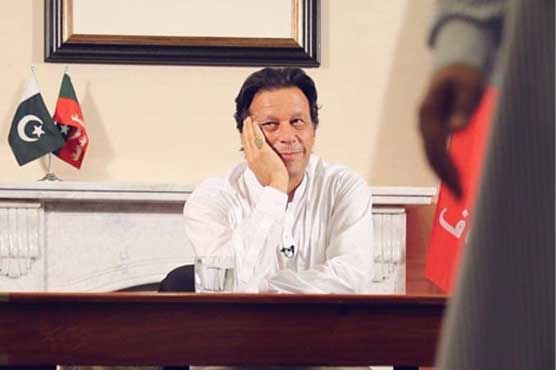 "I will live humbly and will never change like other politicians."
(Web Desk) - Imran Khan, surely to be the next premier of Pakistan, has become successful after a tough and elongated struggle. Power corridor seems to be open for him. Although people expected that he will make his victory speech yesterday, but he really waited for the final results. Now that it is obvious that PTI will be able to form federal government, Imran Khan decided to give his victory speech. Throughout the speech Khan seemed to be cool and composed, more importantly he did not need any paper to assist him convey his thoughts. Following are the crucial points that he highlighted during this speech.
1) Spending over human development will be our priority.
2) Kashmir is our vital issue. Human rights violations are on the rise in the valley.
3) Pakistan and India should sit on table to settle the decisive matter like Kashmir.
4) Indian media made propaganda against me and portrayed me a villain.
5) We want good relations with India.
6) People's money will not be spared.
7) Simplicity is what will be adopted during the tenure of PTI.
Majorly he stated that the government would spend resources over human development. It is true successive governments in Pakistan ignored spending over humans. At the moment, it will have to observe that to what extent PTI spends over basic necessities. Another vital issue he pointed is his commitment of not taking revenge from his political opponents.
People on social media showed their reaction in different ways.
— Fe reeha Idrees (@Fereeha) July 26, 2018

— Ajmal Jami (@ajmaljami) July 26, 2018

— Nadeem Farooq Paracha (@NadeemfParacha) July 26, 2018

— Dr Ayesha (@DrAyeshaNaveed) July 26, 2018

— Mustafa Zahid (@Mustafology) July 26, 2018

— Tiger Khan (@NomiiSahil) July 26, 2018

— Aamir (@aamir_mustafa10) July 26, 2018



Significantly, he stated, "I want to clarify why I entered politics. Politics could not have given me anything. I wanted Pakistan to become the country that my leader Quaid-i-Azam Muhammad Ali Jinnah had dreamed of." At the last moment, he said that he would live humbly and will never change just like other politicians who after coming to power change altogether.
By: Junaid Ali Malik