Sahibzada Nizam-ud-Din Sialvi announces to part ways with politics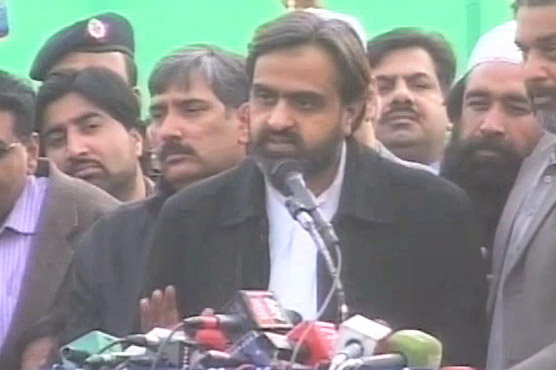 Nizam-ud-Din Sialvi said Hameeduddin Sialvi will decide political fate of Sial Sharif
SARGODHA (Dunya News) – Sahibzada Ghulam Nizam-ud-Din Sialvi, who had resigned as provincial lawmaker from the ruling party, announced to part ways with politics.
Talking to media, Nizam-ud-Din Sialvi said, "I announce to part ways with politics."
"I am ready to sacrifice for the shrine of Sial Sharif," he added.
He told that his uncle Pir Hameeduddin Sialvi will decide the political fate of Sial Sharif.
Nizam-ud-Din Sialvi hails from Sargodha and had won the Punjab Assembly seat PP-37 on Pakistan Muslim League-Nawaz (PML-N) ticket. He had resigned from his provincial assembly seat when religious group led by Hameeduddin Sialvi announced protests against the PML-N government.
His announcement comes two weeks after Hameeduddin Sialvi postponed the sit-in against Punjab government on the request of Punjab chief minister CM Shehbaz Sharif. Both leaders met in January held successful negotiations.
The cleric had warned the Government of Punjab to impose sharia law within a period of seven days lest the religious groups would shut down the entire province.
Sialvi, who led a sit-in protest of thousands of people outside rushy shrine of Data Gunj Bukhsh in Lahore, had demanded the government to impose the sharia law. In an address delivered to the protesters, Silavi said that innocent minor girls are murdered in multiple cities while the government failed to arrest the perpetrators.