Last Updated On 09 October,2017 10:05 am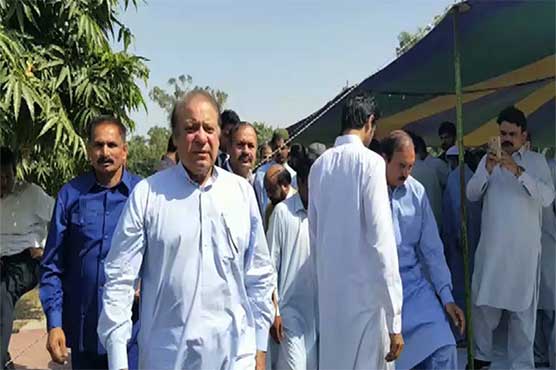 Former PM visited grave of his father alongside Punjab CM Shehbaz Sharif before reaching Islamabad
LAHORE (Dunya News) – Nawaz Sharif has clearly stated on Sunday that his children – Hassan Nawaz, Hussain Nawaz and Maryam Nawaz – will return to Pakistan and face accountability in courts.
Speaking to the party workers, the former premier assured that his wife Kulsoom Nawaz will also return home after the complete medical recovery. She was earlier reported to be discharged from the hospital after successful surgeries.
Sacked PM visited the grave of his father Mian Mohammad Sharif in Jati Umra alongside his brother and Punjab CM, Shehbaz Sharif. He then traveled to Islamabad and reached Punjab House where he will stay. Nawaz Sharif is expected to appear before NAB court on October 2 and face corruption references against him.
He will leave for London on October 5 where he will take care of his wife. However, sources say ex-PM will return to Pakistan soon afterwards. Meanwhile, Nawaz Sharif is likely to become PML-N president after National Assembly lawmakers approve Election Reforms Bill 2017 in a session on October 2.