Last Updated On 07 September,2017 01:22 pm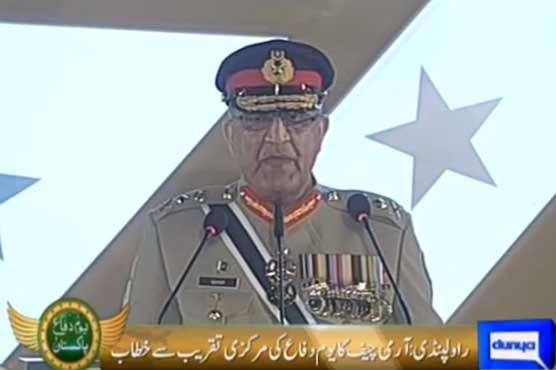 Gen Qamar Javed Bajwa said that Pakistan doesn't demand aid but respect from US
RAWALPINDI (Dunya News) – Chief of Army Staff Gen Qamar Javed Bajwa has asserted that the world should 'do more' now, reported Dunya News.
Bajwa was addressing the central ceremony to commemorate the Defense Day held at the General Headquarters (GHQ). "We demand respect from United States not aid," Bajwa asserted.
Army chief thanked everyone present on the occasion. He said that the darkness that hovered over Pakistan is diminishing. "We are indebted by the blood of martyrs, the nation who forget their martyrs are not forgiven by history," he said.
COAS said that Pakistan's Armed forces have always put forward their lives since 1947. "Pakistan Army can eliminate terrorist but terrorism can only be curbed with the support of each and every citizen of this country," he maintained.
He said that extremists are not doing jihad, instead they are creating conflict in the region. "National unity is the need of the hour," he asserted. He said that Pakistan has given so many sacrifices in the past now is the time to inflict damage back on the extremists.
He said that fight against terrorism is the fight for Pakistan s existence. "We have to win this battle for our future generations," he vowed.
"We are proud of the brave people of Balochistan who have denied infiltration in their province. Pakistan s struggle is a bright example in the decade long war on terror. Pakistan s strong friendship with China will become stronger with time and CPEC will open ways for peace and prosperity in the region," he asserted.
"Pakistan is a peaceful country, we are against war and terrorism. However, India s brutality in Kashmir is infront of everyone. India should stop doing planned strikes at the line of control," he said.
He maintained that Pakistan aided Afghanistan more than its resources and went forward to negotiate in Afghanistan. "We are placing 2600 km long barbed wires at the Pak-Afghan border, we won t allow anyone to use our country for terrorism," he announced.