Last Updated On 26 May,2017 02:47 pm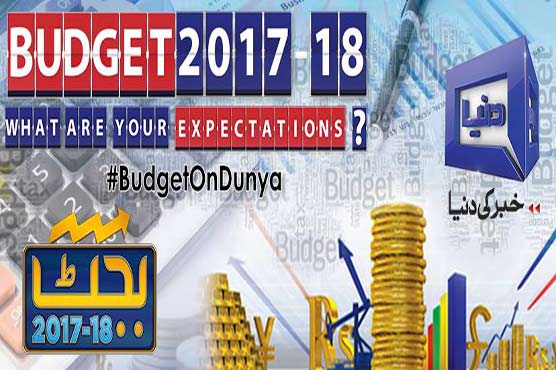 Finance Minister Ishaq Dar will present Federal Budget for fiscal year 2017-18 in parliament today.
ISLAMABAD (Dunya News) - Federal Budget for the fiscal year 2017-18 with an estimated outlay of Rs 4.8 trillion will be presented in the parliament today (Friday). Finance Minister Ishaq Dar will present the budget.
The upcoming national budget envisages revival of economy, overcoming challenges at economic front particularly resolving the energy crisis and reducing non-development expenditures and providing relief to the masses besides promoting investment and people friendly policies for the socio economic prosperity of the country.
The allocation for Defence in the upcoming budget will be Rs 945 billion, showing an increase of Rs 85 billion in the defence budget as compared to 2016-17 budget.
At least 15 percent increase in salaries and pensions of government employees is expected for which Rs 395 billion and Rs 275 will be allocated in the budget 2017-18
The National Economic Council (NEC) chaired by Prime Minister Muhammad Nawaz Sharif on May 19, had already approved the Gross Domestic Product (GDP) growth target at 6 percent for the financial year 2017-18 while the government achieved a GDP growth rate of 5.3 percent in the outgoing fiscal year.
The NEC also approved country's consolidated development budget of Rs 2.5 trillion for the upcoming financial year (2017-18), showing highest-ever increase in the overall national outlay. This included Rs 1001 billion Federal Public Sector Development Programme (PSDP), Rs 1112 billion provincial PSDP while Rs 400 billion would be spent by various corporations from their own resources to carry out their development projects.
---
WATCH VIDEO REPORT: