Last Updated On 22 May,2017 11:31 pm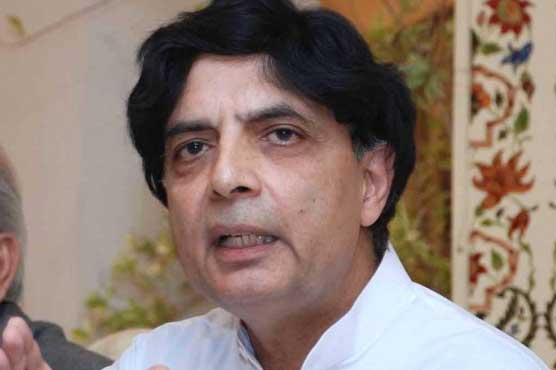 Interior Minister met senior members of PBA including Mian Amer Mahmood to discuss role of media
ISLAMABAD (Dunya News) – Interior Minister Chaudhry Nisar Ali Khan made it clear on Monday no compromise will be made on issues concerning national interest.
He met senior members of Pakistan Broadcasting Association including Mian Amer Mahmood where he advised media persons to act as an obstacle against those who spread extremism, fanaticism and chaos in the name of free speech.
Nisar said no compromise will be made on issues regarding national interest and violation of laws. Other members of PBA in the meeting included Sultan Lakhani, Mir Ibrahim Rehman, Shakeel Masood Hussain, Tahir A. Khan and others.
The matters under discussion were media industry, national security, role of media in securing state interest, Axact scandal and other cases that damaged the country s reputation. PBA members raised the issue of Axact scandal and foreign funding of certain TV channels. Nisar scheduled another meeting with media owners and journalist organizations regarding national security matters.
While shedding light on media's role, he stressed on superiority of law with the help of freedom of expression as well as autonomous journalistic practices. "Freedom of media can ensure unity and democracy," he added.
He also urged media to follow national strategy to fight terrorism.