Last Updated On 22 April,2017 07:51 pm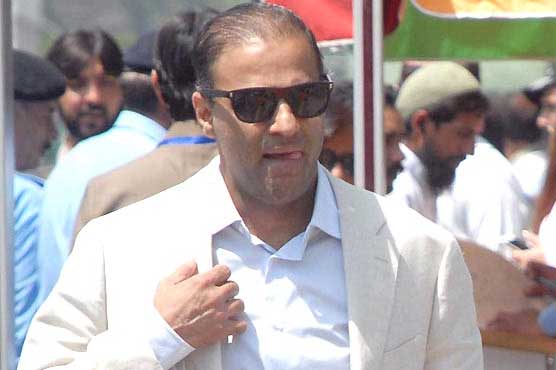 Abid Sher Ali expressed his views while talking to media at headquarters of FESCO.
FAISALABAD (Dunya News) – Minister of State for Water and Power Abid Sher Ali has bashed Pakistan Peoples Party (PPP) co-chairman Asif Ali Zardari over his current remarks and declared him the root cause of all evils in Pakistan, reported Dunya News on Saturday.
Abid Sher Ali expressed his views while talking to media at headquarters of Faisalabad Electric Supply Company (FESCO) and demanded that military court should hold the trail of Asif Ali Zardari.
---
Related: Zardari lecturing on honesty sign of Doomsday: Nisar
---
The Pakistan Muslim League-Nawaz (PML-N) leader further said that the manifesto of PPP is to destroy all institutions of Pakistan. The minister said that Asif Zardari is raising questions over joint investigation team (JIT) that has been formed by Supreme Court (SC) of Pakistan, but he is forgetting the fact that his name is also coming forward in the JIT that was made in Dr Asim's case.
Abid Sher Ali said that the revelations made by Uzair Baloch are also leading towards Zardai himself. He further added that those who are mocking us over Landhi jail are the same people who cried when Dr Asim and Ayyan Ali were arrested.
The Minister of State for Water and Power asked how did Zardari become Mr. 1000 percent from Mr. 10 percent? He also demanded the money trail of Swiss accounts and Surrey Palace.
---
Explore: Zardari rejects Panama Leaks case verdict
---
Abid Sher Ali said that PPP's Aitzaz Ahsan accused Army, which is the biggest institution of this country, and his wife was awarded the LPG contracts in Musharraf era.
He also talked about former Chief Justice of Pakistan Iftikhar Chaudhry and said where was his morality when accusations were made against his son Arsalan Iftikhar?
The minister said that Pakistan Tehreek-e-Insaf (PTI) chairman used to call Asif Ali Zardari a robber, and has now joined hands with him. Abid added that Imran Khan should now stop crying and do some work practically.
Talking about Awami Muslim League (AML) head Sheikh Rasheed, Abid Sher Ali made some interesting comments and said, "Mar gaya mardood, na fateha na durood" (It is no use to discuss those people who have now become a part of the past).
PPP and PTI strongly condemned the statements given by Abid Sher Ali. PPP Punjab President Qamar-uz-Zaman Kaira while talking to Dunya News has said that the 'abusing brigade' of PML-N has now come down to personal level.
Qamar-uz-Zaman Kaira added that Abid Sher Ali should first answer the questions of Rana Sanaullah. Nobody's family is hidden from anyone, only one press conference will open all the secrets of his family, Kaira said. He also said that Nawaz Sharif should keep a check on the language of his workers.
PPP Senator Saeed Ghani said PML-N is afraid that if PPP gets stronger than they no longer will remain in power.
PTI leader Arif Alvi said that everybody knows which parties have done the deal with each other. He further added that politicians should do criticism on one another, but within the limits of morality. Arif Alvi said that attacks on personal lives is an alarming situation.
Alvi continued that what Abid Sher Ali said about Asif Ali Zardari is correct. He said that Imran Khan has badly trapped Nawaz Sharif and his followers in Panama case.