Anti-govt campaign of two 'step brothers' will be fruitless: Abid Sher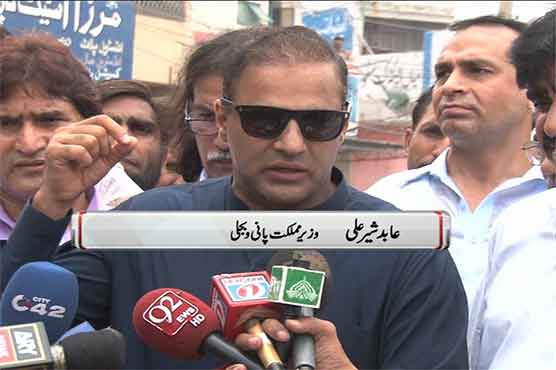 WAPDA officers involved in overbilling, related crimes shall be penalised, says state minister
LAHORE (Dunya News) – Federal Minister of State for Water and Power Abid Sher Ali stated on Saturday that the anti-government campaign launched by two step brothers of the Pakistani politics will be fruitless, further stating that the government shall complete its tenure, reported Dunya News.
While addressing a ceremony arranged at Nishtar Town for the victims of electrocution, Abid Sher stated that the distribution companies shall finalise their survey regarding the tangled and low hanging electricity wires till August 15, adding that massive changes shall be introduced in the distribution system once the survey gets complete.
Though the ceremony Abid Sher Ali attended was planned for Prime Minister (PM) Nawaz Sharif but the PM s visit was cancelled at the eleventh hour thus the state minister had to show up for the event.
Abid Sher Ali once again lambasted Pakistan Tehreek-e-Insaf (PTI) Chairman Imran Khan and Pakistan Awami Tehreek (PAT) head Tahirul Qadri and stated that these two step brothers shall never achieve success.
State minister also announced that Water and Power Development Authority (WAPDA) officers involved in overbilling and related crimes shall be penalised.