US special envoy, Gen Raheel Sharif discuss regional security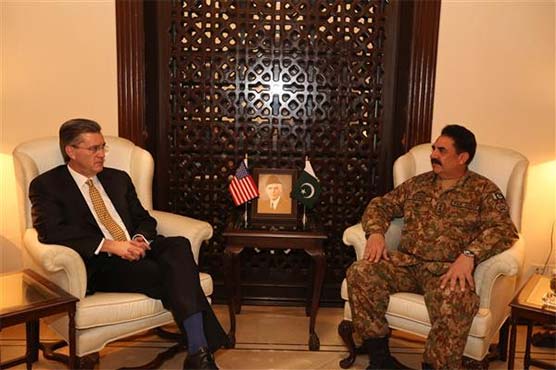 COAS and Richard Olson discussed overall regional security situation.
RAWALPINDI (Web Desk) - Ambassador Richard G. Olson, US Special representative for Afghanistan and Pakistan called on Chief of Army Staff (COAS) General Raheel Sharif, today (Monday) at General Headquarters, the Inter Services Public Relations (ISPR) reported.
Overall regional security situation with particular reference to situation in Afghanistan came under discussion during the meeting.
This was Ambassador Olson's first visit to General Headquarters after assumption of office of US Special Representative for Afghanistan and Pakistan in November this year.
Earlier on Friday, the newly-appointed US Ambassador to Pakistan, David Hale held a meeting General Raheel Sharif and discussed matters of mutual interest including regional security situation.
---
READ MORE: US Ambassador calls on General Raheel Sharif at GHQ
---
Pakistan hosted a milestone first round of peace negotiations in July but the talks soon stalled when the Taliban belatedly confirmed the death of their longtime leader Mullah Omar.
The United States and China have been pushing for the process to restart, but frosty ties between Islamabad and Kabul have hampered those efforts.