Army Chief, PM Nawaz discuss country's security situation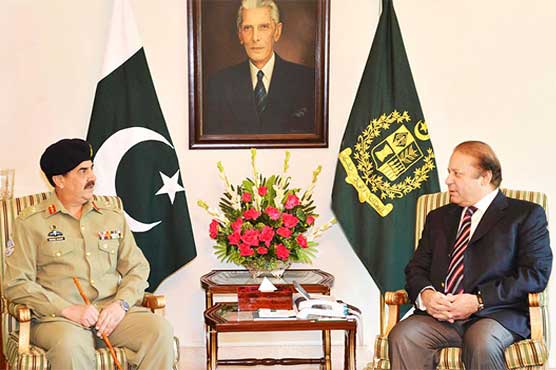 General Raheel Sharif and Prime Minister Nawaz Sharif discuss over all security situation.
ISLAMABAD (Web Desk) - Chief of Army Staff (COAS) General Raheel Sharif called on Prime Minister Muhammad Nawaz Sharif in Islamabad on Friday to discuss matters pertaining to internal security situation.
Both also discussed matters relating to Afghanistan's security and its impact on Pakistan.
The meeting comes a day after General Raheel Sharif chaired a Crops Commanders Conference at the General Headquarters (GHQ) in Rawalpindi).
The forum took an in - depth review of internal security situation and discussed professional matters.
THe meeting also reviewed external security with particular emphasis on situation in Afghanistan and border management issues on Pak-Afg border.
Pak Army launched operation "Zarb-e-Azb" in June 2014 in a bid to wipe out militant bases in the North Waziristan tribal area and so bring an end to the bloody decade-long insurgency that has cost Pakistan thousands of lives.
The army intensified its offensive after last year s Peshawar school attack which killed 151 since when there has been a lull in violence.
Overall levels of violence have dropped dramatically this year, with 2015 on course for the fewest deaths among civilian and security forces since 2007 -- the year the Tehreek-e-Taliban Pakistan (TTP) umbrella group was formed.