Last Updated On 21 September,2015 About 0 seconds from now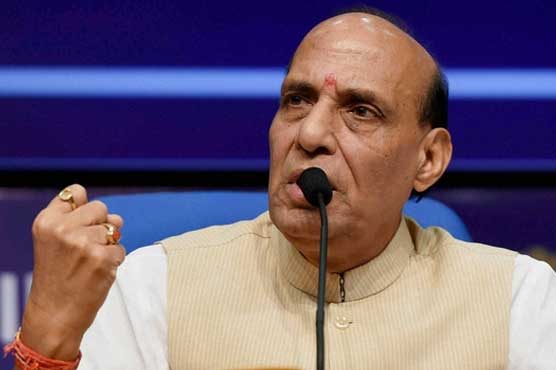 Indian Home Minister said his country was ready to take lead to improve ties with neighbours.
(Web Desk) - Indian Home Minister Rajnath Singh on Monday said that his country has always endeavoured to have better ties with neighbours particularly Pakistan and China and all issues including border disputes and terrorism can be resolved through talks, the Indian media reported.
During his three-day visit to forward areas along the borders with Pakistan and China, Singh said India "only wants to defend its borders."
He said India was ready to take lead to improve ties with neighbours but would not compromise on honour and dignity.
"We want better relationships with China and Pakistan. Peace cannot prevail in Asia and the continent cannot prosper on the path of development" till India s relations with them improve, Singh said while addressing ITBP troops, who guard India s border with China, at a function.
"Whether it is a question of border disputes or issues of terrorism, I feel all the issues can be resolved through talks," he said, adding, "India is a peace loving country. We only want to defend our borders."
"India has never been an expansionist country. Neither we have been expansionist nor we will be in future," he added.
To a question, he said: "I want that Pakistan should come forward so that relations between India and Pakistan are better as both are neighbours. But at the same time, we won t compromise on safety, security, honour and dignity of the country".
Asked whether India was hopeful of a positive outcome from Indo-Pak flag meeting on LoC today, he said that Pakistan Rangers DG had met him and given an assurance on this.