PM Nawaz arrives in Skardu to review flood situation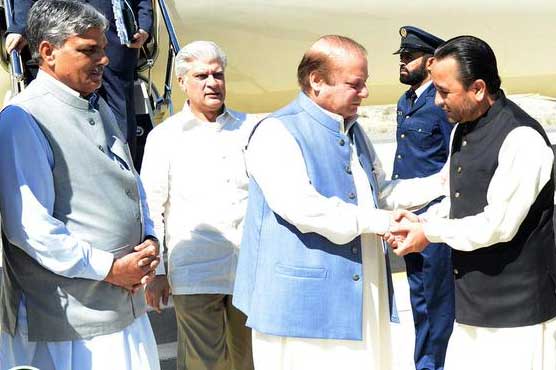 The prime minister will be briefed on damages caused by floods in Skardu.
SKARDU (Web Desk) - Prime Minister Muhammad Nawaz Sharif have arrived in Skardu today (Thursday) to visit the flood affected areas of District Ghanche.
The Prime Minister will take a briefing and meet flood affected people and distribute relief items.
Rescue and relief operations are in full swing in the flood-hit areas across the country.
According to the state radio, the National Disaster Management Authority (NDMA) has transported 15 tons of ration and bottled water to Chitral for the flood victims through two C-130 planes. It has also evacuated 80 stranded tourists with the help of PAF from the affected areas.
Five mobile utility stores outlets have been established in Chitral on the direction of Prime Minister Muhammad Nawaz Sharif.
The NDMA has also transported 20 tons of commodities for the flood hit areas of Mastung and Bhoni from Gilgit.