Last Updated On 23 June,2015 About 0 seconds from now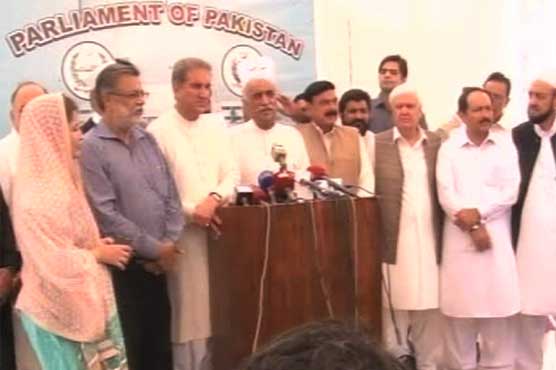 Opposition members held a meeting in Islamabad today.
ISLAMABAD (Dunya News) – Opposition parties have decided to observe black day across the country against deaths of more than 450 people due to heatwave and load shedding in Karachi.
Opposition Leader in the National Assembly Syed Khurshid Shah chaired a meeting of the opposition parties in Islamabad on Tuesday.
The meeting was attended by Shah Mehmood Qureshi, Arif Alvi, Rasheed Godil, Sahabzada Tariqullah, Aftab Sherparo and Sheikh Rasheed.
The opposition members staged walk out from the National Assembly and offered funeral prayers in absentia for the victims outside the Parliament House.
Talking to media, Khurshid Shah said the government is responsible for deaths due to heatwave and loadshedding in the interior Sindh.
Shah said 450 people lost their lives in Karachi alone.
"I wish Iftikahr Chauhdry was Chief Justice of Pakistan at this time, he would have taken suo moto notice," he added.
The death toll in Karachi, the country s largest city, where temperatures hit 45 degrees Celsius (111 Fahrenheit) at the weekend, is at least 474 and a further 11 deaths were reported in southern parts of central Punjab province.
Doctors say most of those who have died succumbed to heatstroke.
The government of Sindh, the province where Karachi is located, has imposed a state of emergency at all hospitals, cancelling leave for doctors and other medical staff and increasing stocks of medical supplies.