CPEC on India's nerves, Pakistan must respond to propaganda: Experts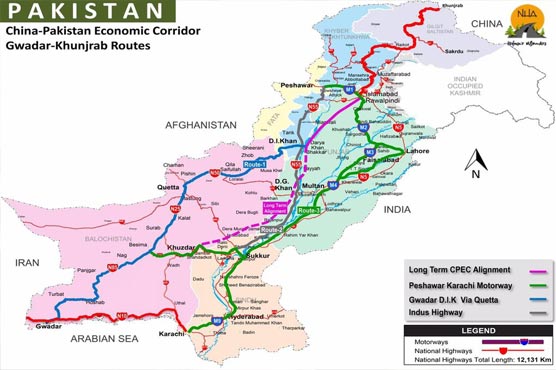 Senior experts said that Pakistan needs a full time Foreign Minister to respond to Indian propaganda
LAHORE: (Daily Dunya) – Senior experts and defence analysts have on Tuesday said that the China-Pakistan Economic Corridor (CPEC) is on India's nerves and that is why she is making such stupid statements. They opined that Pakistan needs a full time Foreign Minister to respond to Indian propaganda, reported Daily Dunya.
"Who is India to object to CPEC?" question veteran defence analyst, and former DG ISI, General (r) Hameed Gul. He said that everyone knows Indian intelligence agency RAW was trying to create issues in Gilgit-Baltistan (GB). He said that India would definitely try to sabotage the agreement between China and Pakistan but Pakistan will have to respond with full determination. He said that the things are not going in India's favor and that is why Indian government is dumbfounded. "Indian Prime Minister Narendra Modi is himself eyeing China's investment and that is why he is doing such awkward things", he said.
Hameed Gul said that if India resolves the Kashmir dispute then the CPEC may also pass through New Delhi but it will first have to resolve the Kashmir issue.
Former Foreign Minister Khurshid Mehmood Qusoori said that India would not be able to sabotage CPEC given that there is no chaos in Pakistan and thus Pakistan must take care of that. "It is good that all the political parties have agreed on CPEC. However, Pakistan must have active foreign policy to counter Indian propaganda but that would require a full time Foreign Minister but Prime Minister is keeping this portfolio with him", he said. He said that India has a habit of raising objections for the sake of raising objections only.
Pakistan Muslim League – Nawaz (PML-N) leader Zafar Ali Shah said that though the Indian propaganda is baseless yet India is doing an effective propaganda. India's agenda is to somehow sabotage the CPEC project. He said that Pakistan should take the matter to the United Nations (UN). He said that government was effectively countering Indian propaganda in his opinion.