Security forces kill 15 terrorists in Khyber Agency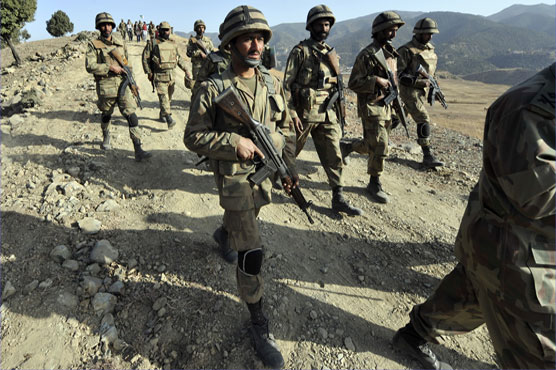 Some 30 to 35 terrorists attacked a security check post in Tirah Valley.
PESHAWAR (Dunya News / Reuters) - At least fifteen terrorists were killed and three security personnel got injured during a clash in the Khyber tribal region on Saturday morning.
According to the Inter-Services Public Relations (ISPR), about thirty to thirty-five terrorists attacked a check post of security forces in Tirah valley. The security forces effectively retaliated and foiled the attack.
The security forces have also seized bodies of ten terrorists besides recovering weapons and ammunition from them.
The clash occurred three days after Pakistani jet fighters killed 30 militants allied to the outlawed Tehreek-e-Taliban Pakistan (TTP) i in the mountainous northwestern Khyber region.
The air force has been pounding positions in the Tirah Valley for days and the military says it has killed scores.
The 30 killed in Wednesday s attack in the Sipah district were from the Lashkar-e-Islam, which announced an alliance with the Taliban earlier this month.