Opposition leader Khurshid Shah suggests mid-term elections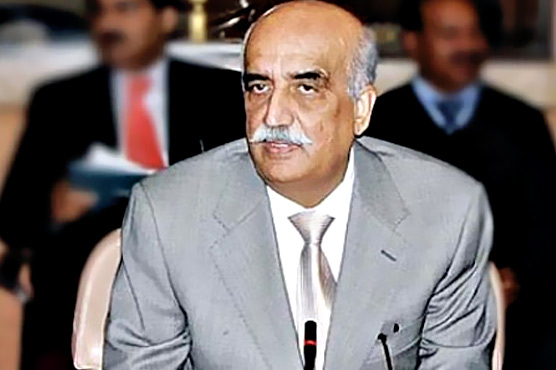 Prime Minister Nawaz Sharif should announce mid-term polls, the PPP leader said.
ISLAMABAD (Dunya News) – Opposition leader in the National Assembly Syed Khurshid Shah on Tuesday recommended holding of mid-term elections to resolve prevailing political crisis.
Talking to media in Islamabad, Khurshid Shah stated that it will be better for the system if Prime Minister Nawaz Sharif announces mid-term polls.
The PPP leader stated that it is not appropriate to force the premier on 'going point' to take this action.
We want survival of the system and parliament, he added.
Khurshid Shah suggested that investigation of election rigging should be carried out through the Supreme Court of Pakistan. He said opposition jirga should hold direct talks with the leadership of Pakistan Tehreek-e-Insaf (PTI) and ruling Pakistan Muslim League Nawaz (PML-N) to end the deadlock.
Shah said Nawaz Sharif is an constitutionally elected prime minister and he was felicitated by former president Asif Ali Zardari and PTI chief Imran Khan over his victory.
Thousands of anti-government protestors led by Imran Khan and Tahirul Qadri have staged sit-ins in the federal capital s Red Zone to oust Prime Minister Nawaz Sharif.
Imran Khan alleges the 2013 elections were rigged in a conspiracy led by nawaz Sharif, acting with the Election Commission, the judiciary, the interim provincial government in Punjab, and a private news channel. However, they have all denied the allegations.