Last Updated On 28 September,2014 About 7 years ago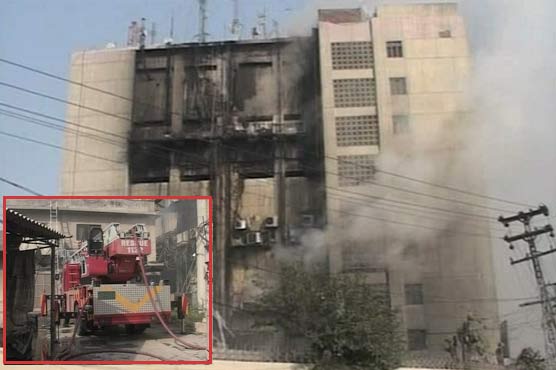 Four floors of the PTCL Exchange office have completely burnt down.
LAHORE (Dunya News)— The fire that broke out in Pakistan Telecommunication Company Limited (PTCL) exchange building early Sunday couldn't be brought under control. Four floors of the office have completely burnt down. According to PTCL authorities, 45000 telephone lines have been affected. As a result, telecommunication services have been suspended.
The fire broke out at the 4th floor of the PTCL building situated at the Egerton Road in Lahore on early Sunday morning which quickly spread to other areas of the building.

Firefighters and rescue teams from all over the city reached the spot and brought the fire under control after hectic efforts of three hours.
The initial reports said that the fire was caused by short circuit. However, despite several efforts by the firefighters and rescue team, the fire again erupted resulting in completely damaging the four floors of the office.

PTCL and internet service have been suspended in the city. Moreover, the emergency helpline 15, Rescue 1122, Edhi, Airport and Railway telephone service has also been disrupted.
According to PTCL authorities, 45000 telephone lines and 25000 internet connections have been affected because of the incident.
Work is underway in order to temporarily restore the service by connecting the affected telephone lines with the Garden Town Exchange but the process can take up to 10 hours.
On the other hand, completely restoring the telecommunication services across the city would take about two more days.