La Scala announces 2023-24 season as new government decree creates uncertainty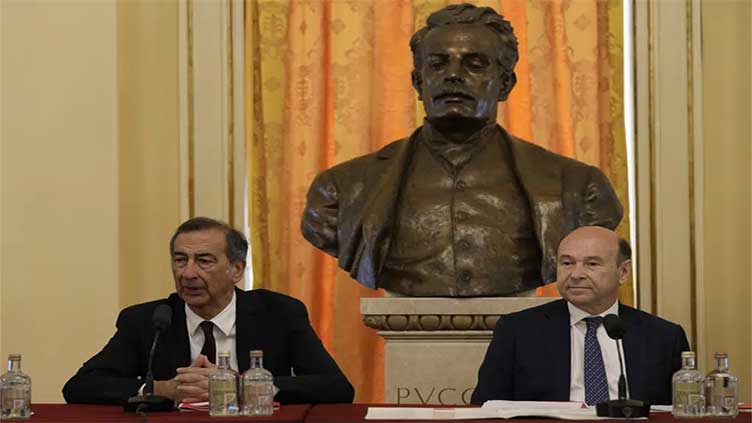 Entertainment
La Scala announces 2023-24 season as new government decree creates uncertainty
MILAN (AP) — The French general manager of Milan's famed Teatro alla Scala is facing the threat of a tenure cut short, even as he unveiled a star-studded 2023-24 season and announced record sponsor revenues on Monday.
A government decree adopted earlier this month would require any general manager of a lyric opera theater in Italy, birthplace of the art form, to step down on their 70th birthday. The new limits imposed by the far-right-led government are widely seen as seeking to curtail foreign influence on Italian culture.
For La Scala's general manager, Dominique Meyer, that would be in August 2025, precluding a customary second mandate. His first runs out in the spring of that year.
Milan Mayor Giuseppe Sala, who serves on the La Scala board, acknowledged the government's moves created "an uncomfortable situation," also given the long advance time necessary to sign talent for opera seasons. The decree becomes law once it is officially published.
"I think that our government should know that we are speaking of an important reality, of theaters like La Scala," Sala, who belongs to the opposition Democratic Party, told a press conference. "It is not OK to leave things up in the air, with this possible change in the norms."
But he expressed confidence that La Scala would weather whatever changes it faced, citing the professionalism of its management.
Meyer said he was calm and continuing to work as usual. "We are trying to secure the biggest artists in the world also in the future," he said.
The 2023-24 season opens on Dec. 7 with a new production of Verdi's "Don Carlo," conducted by La Scala's music director, Riccardo Chailly, and featuring Anna Netrebko, Rene Pape, Francesco Meli and Luca Salsi.
Eleven of the 15 operas next season are by Italian composers, including Puccini's "La rondine," conducted by Chailly, and "Turandot," conducted by Daniel Harding. The theater is also launching a new Wagner ring cycle, starting with "Das Rheingold" in October 2024.
La Scala's orchestra and choir will conduct a rare nine-city European tour, with stops including Vienna, Amsterdam and Paris. Riccardo Muti returns with the Chicago Symphony Orchestra on Jan. 27, 2024, as part of a guest orchestra series.
The ballet season opens Dec. 15 with "Coppelia," by acclaimed choreographer Alexei Ratmansky, while La Scala's principal dancer Roberto Bolle will star in four performances of "Madina" in February and March 2024. A gala honoring the late prima ballerina Carla Fracci will be held on April 19, 2024.
While introducing the season, Meyer underlined recent milestones, including hitting a record 43 million euros ($46 million) in revenues from sponsors last year. He noted that revenues overall last year were up 25% over the last pre-pandemic year in 2019, with performances averaging 90% of capacity, even though last-minute lower-cost ticket sales were down by nearly half.
"It is no longer true that you can just show up at La Scala and find tickets. You need to reserve," he said.
The government's decree on the age of opera house general managers would have a more immediate effect, at the San Carlo Opera House in Naples, ending Frenchman Stephane Lissner's tenure in June. Lissner, a former La Scala general manager, has indicated he plans to challenge the measure, which some experts have suggested is unconstitutional since it would have a retroactive impact.