Malala Yousafzai attires Ralph Lauren gown at The Oscars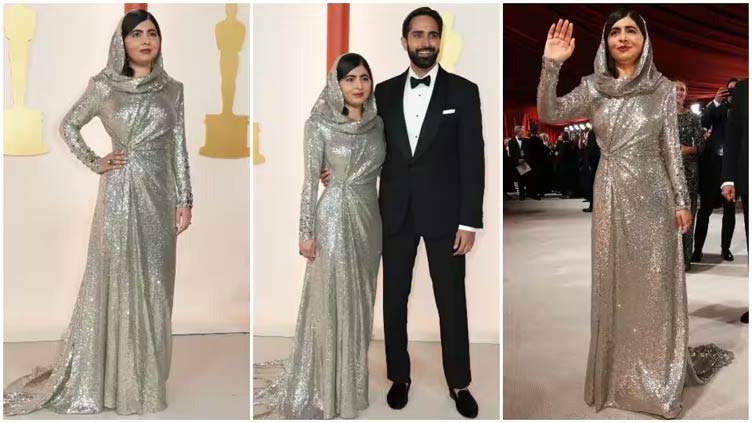 Entertainment
She wanted her dress to represent the message of her film.
LAHORE (Web Desk) - Malala Yousafzai is the youngest recipient of Nobel Peace Prize and second Pakistani to hold the honour. She is known for her education activism and an assassination attempt that she survived. She is also a controversial figure in Pakistan but she has many admirers in the country as well.
She got married to Asser Malik and her fans love to watch their cute chemistry and support for each other. Asser is always seen alongside Malala in all her endeavours and same was the case at the Oscars.
The youngest Nobel prize recipient stepped onto the golden carpet at this year's Academy Awards with her husband in a silver sequinned gown with an attached headscarf.
It was learnt that Malala's dress was a custom Ralph Lauren gown. Lauren is an American fashion designer, philanthropist, and billionaire businessman, best known for the Ralph Lauren Corporation, a global multibillion-dollar enterprise.
Malala's silver gown had long sleeves and cinched detail on one side of the waist while the highlight of her dress was her accessories. Keeping it simple, the 25-year-old paired her dress with pendant earrings in platinum, a silver diamond ring and a gold ring. She wore minimal makeup and completed her look with a pop of red on her lips.
Meanwhile, Malik opted for a dark tuxedo with a white shirt. Malala attended the film's biggest awards as the executive producer for the Oscar-nominated short documentary, Stranger at the Gate.
Taking to Instagram, Malala said that she wanted her dress to represent the message of her film Stranger at the Gate and embody hope.
"It was all a dream I wanted my dress to represent the message of our film @strangeratthegate and embody hope. Thank you so much to the brilliant team that helped bring my vision to life," wrote the activist.
Malala is now associating herself with different content production which aims to create awareness amongst people. It was her debut at the Oscars and she was there to support a short film 'Stranger at The Gate.'