Last Updated On 26 June,2017 10:27 am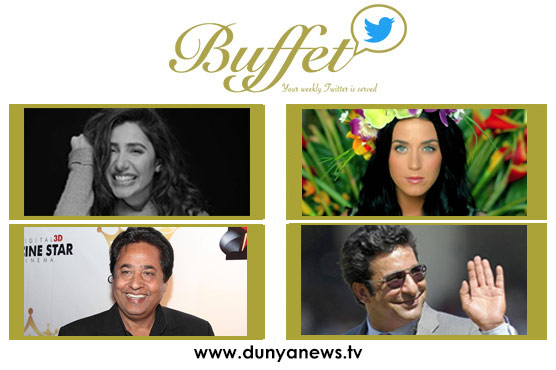 Your buffet will be served every Saturday having all the Twitter chirps of the entire week
(Abdullah Ejaz) – We survived our first episode!
Who are we? Buffoons!
What we do? Twitter Buffet!
About what time? 09:00pm!
When? On Saturdays!
Harrippa! Leggo!
Amir reminds Wasim Akram of his days
Champions Trophy this year has not been less than a dream come true for cricket diehards and more so for Mohammad Amir, once bogged down by fixing scandal, who has since been going up after the ban was lifted.
After Sarfraz eleven lifted the trophy at the Oval on June 18, amongst ecstatic former cricketers was Wasim Akram, yesteryear legend of the game who reiterated that he sees his cricketing days in Amir.
You little beauty @TheAmirOfficiaI reminded me of my days .

— Wasim Akram (@wasimakramlive) June 18, 2017
An overwhelmed Amir wrote back: "You know you are doing something right when the maestro @wasimakramlive approves of you. I take the most humble bow, Sir Shukria."
Mahira has got Project Ghazi's back
So Project Ghazi starring the cutsie Shehryar Munawar and allegedly expression-deaf Saira Shehroze in the leads is to hit the screens on July 14.
Trailer of the film that is being touted as the first ever superhero film of Pakistan generated a buzz which mainly was a mix bag of comments.
However, Mahira Khan apparently had expected more off Mangobaaz's headlines. The trailer was "so damn good" contrary to "not that bad."
Not that bad!? It s so damn good! :) https://t.co/NHan6jknb5

— Mahira Khan (@TheMahiraKhan) June 20, 2017
Gambhir can help Mirwaiz 'pack up'
Freedom activist Mirwaiz Umar Farooq acknowledged Pakistan's Champions Trophy milestone only to be asked by skipper of Kolkata Knight Riders off Indian Premier League (IPL) shelves to move to Pakistan.
He offered to lend a hand for packing and suggested that Pakistan would have better fireworks to celebrate the victory; Chinese.
Well Gambhira, better or not but we sure have Chinese crackers and JF-17 Thunders.
A suggestion @MirwaizKashmir why don t u cross the border? U will get better fireworks (Chinese?), Eid celebs there.I can help u wid packing

— Gautam Gambhir (@GautamGambhir) June 18, 2017
Pak victory an early Eid for Mirwaiz
What the 35-year-old Gautam Gambhir could not handle was Mirwaiz stating Pakistan win an early Eid for Kashmiris, if not for all, at least for him: "Better team took the day," he wrote on Twitter.
Fireworks all around, feels like an early Eid here. Better team took the day. Congratulations team #Pakistan

— Mirwaiz Umar Farooq (@MirwaizKashmir) June 18, 2017
We can't stop adoring Deepika's girl-next-door avatar in these pics
Are you as amused as us looking at these pictures from Jio Filmfare chat of Deepika Padukone with one and only word-maestro Jitesh Pillai, Filmfare editor?
With the recent posters of her last few films and slick photoshoots, we definitely were pleasantly surprised with these stills from the chat with Filmfare and that is why they made their way to Twitter Buffet.
From the time Padukone was struggling with depression, the state level badminton player has come a long way and these pictures we hope are just the tip of the iceberg (Awwwww. We heard that!)
Just some adorable stills of @deepikapadukone chatting with @jiteshpillaai on #JioFamouslyFilmfare.

RT if you love to love DP! pic.twitter.com/Nvesy95944

— Filmfare (@filmfare) June 22, 2017
Farzana, first transgender passport holder of Pakistan
With the sixth census completed this year in Pakistan after a long lull of 19 years, two commendable developments have been noticed on transgender front.
The census that began in March saw, for the first time, inclusion of transgender people, and that gives a tug to our systems for a second because one ponders, were transgender persons denied of their existence before that?
Shaming-ly yes, they were.
Pakistan did not have transgender people ever born or seen before 2017, ladies and gentlemen.
The second major development now is that authorities, in first ever, have issued a passport to a transgender person named Farzana allowing gender-neutral documents henceforth.
Farzana Jan becomes the first transgender person to receive a passport as a transgender person by the Govt of Pakistan # Bravo #Milestone pic.twitter.com/Ddpz7KdvIy

— Samar MinAllah Khan (@SamarMinallahKh) June 23, 2017
Meera and Captain Jack Sparrow
Meera and Captain Jack Sparrow; two poles of the world.
Meera did a Twitter Q&A and when asked who was the better captain (pun in making), Sarfraz or former boyfriend Naveed (ahem ahem), she followed the unsaid celebrity rule and came up with a third answer. Always works.
She said Captain Jack Sparrow was her favourite.
Umm.. Meera and Jack Sparrow…
One's a paratha fan and couples it with Tang while other's a coffee and croissant 'man' (Alas Twitter Buffet, so much for anti-sexism)
One thinks Aamir Liaquat is "witty" and the other is oblivious of the curse that accompanies show business
One has cringe-worthy Twitter and other doesn't have a Twitter
Well, cringe-worthy could be a stretch but not always:
Captain Jack Sparrow https://t.co/maD6oJfCKT

— Meera Irtaza (@TheMeeraJee) June 22, 2017
Anaar khaya karein. It s good for the heart https://t.co/MAmpXMBFea

— Meera Irtaza (@TheMeeraJee) June 22, 2017
Witty https://t.co/dicXSAA7QZ

— Meera Irtaza (@TheMeeraJee) June 22, 2017
Hopefully this year Insha Allah. Aap aogay na? https://t.co/Hh6yUovHFe

— Meera Irtaza (@TheMeeraJee) June 22, 2017
But calling a spade a spade. Meera G's new self-deprecating tweets are the way to go, for sure. Turn their only weapon back on them. Here to demonstrate, Meera G again:
Nahi. Mehngi wali. Jese @nextofficial ka bag https://t.co/DjqxhxzXeK

— Meera Irtaza (@TheMeeraJee) June 22, 2017
Gypsy whitening cream or tibet snow. Aur kbhi kbhi aatta https://t.co/b09awzmY8r

— Meera Irtaza (@TheMeeraJee) June 22, 2017
Reminder: This monologue is not about Meera.
Imran Khan has been in the hills for quite some days now
Hamza Ali Abbasi shared on Twitter a picture with Khan on June 24 hashtagging it 'EidwithKaptaan' and we realized that Khan has been beating the heat further down north for quite some days.
On a mission to explore Shograan. #EidwithKaptaan pic.twitter.com/upb8qMaCiH

— Hamza Ali Abbasi (@iamhamzaabbasi) June 24, 2017
Last week, he had hosted an Iftaar for Ian Chappell and Viv Richards.
Forty years on from World Series Cricket. Three greats: Imran Khan, Viv Richards, Ian Chappell. Serious players pic.twitter.com/Fle7D6Qqph

— Alan Wilkins (@alanwilkins22) June 12, 2017
SRK's new romance with Cape Town
Trinidad and Tobago, Kolkata Knight Riders and now Cape Town.
Shahrukh Khan bought a new cricket franchise this week in South African T20I league. Well, the owners were announced this week, he would have bought it sometime back.
We wonder, and not the first time we know, was this man born to have everything king size?
Top brands, top décor, top directors, top career, even top cities? He could have gotten some other South African city like Rustenburg, Nelspruit or something which no one knows of but no no no.. its no less than Cape Town for SRK.
King size grandeur for the king like SRK.
Extremely happy & proud to be part of Global League. Will try our best to make Cape Town & Newlands proud of us. https://t.co/WcY81D9gek

— Shah Rukh Khan (@iamsrk) June 20, 2017
Indian police sell road safety at expense of Bumrah's dignity
We don't want to do too much of cricket but we don't have a choice when Bumrah is ad material for police.
"Don't cross the line. You know it can be costly," Indian police sold road safety with Bumrah no ball in Champ Trophy final.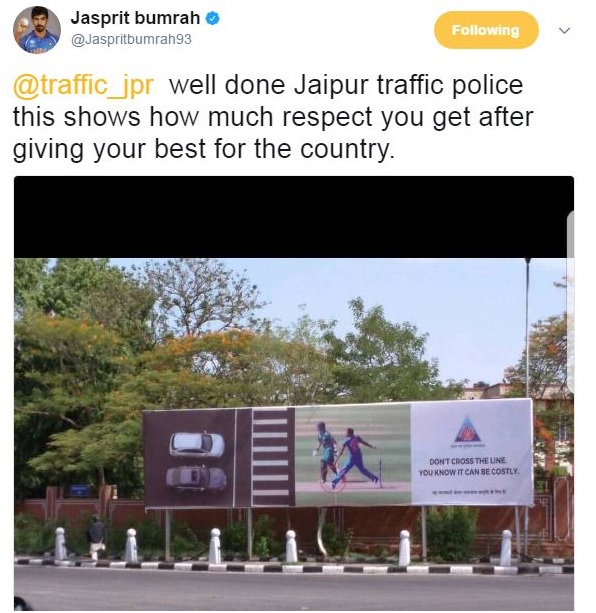 Lessons to learn: Katy Perry "knows nothing" with 100 million followers on Twitter
This week, Perry showed stars around the world how it is really done. She hit the bigger than ever mark of 100 million followers on Twitter but what really left us inspired was her bio, sitting silently while her profile showed off the 100m followers.
"I know nothing."
That is what the bio says.
Name: Katy Perry
Profession: Vocalist, musician
Super power: Humility
Trivia: Perry was brought up in a really conservative household and went to strictly catholic institution. But God's was on her side after all. Haha.
Syed Noor is outdated and Chain Aye Na trailer is an eyesore
Shahroze Sabzwari shared trailer of his impending movie on Twitter this week and we are keeping a mile's distance to say the least.
Chain Aye Na
Trailer Out!!!
Watch the complete trailer at https://t.co/Ra8sTPBHJZ pic.twitter.com/h4Aer0c5YL

— Syed ShahrozSabzwari (@ShahrozSabzwari) June 23, 2017
We are traumatized but more angered. We wish Noor adapts to modern filmmaking or quits.
If Adil Murad is playing a sex offender, he is bang on!
Also in which world does a murder amounts to a sacrifice? Apparently, that is what the trailer suggests. Watch it to get the context, but at your own risk.
NO THANKS!
We have Phoebe Buffay to react to the trailer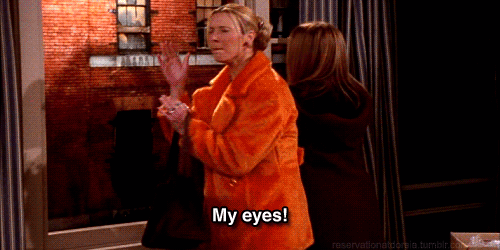 Notable journalist foresees Nawaz Sharif's fall

THE PARTY IS OVERhttps://t.co/RATVt7RTS2

— Suhail Warraich (@suhailswarraich) June 22, 2017
For Insta addicts we've got something for you just in case Twitter doesn't cut it for you. If you have not missed these over the week, you'd want to have a look.
Ballers season III motion poster is here
Poster of third season of HBO series Ballers hit the social media this week and we are excited. It is going to be more of Miami, more of Range Rovers, more of yachts, more of booze and more of M.O.N.E.Y this season.
Briton athlete Amir Khan is 'all ears' to Shoaib Malik
This we know is probably the dozenth time the two have met thus quite comfortable, apparently.
With this we'd like to conclude this week's episode, and if you have not, check out our last week's compilation here.
Needless to say that we are working to put together weekly vlogs for you. We can't put a timeframe on that but we'll be doing those soon.
Meanwhile, have a great week and keep looking forward to Twitter Buffet episode three.
Look who's back to sign us off! It's Phoebe Buffay.