Last Updated On 16 June,2017 01:03 pm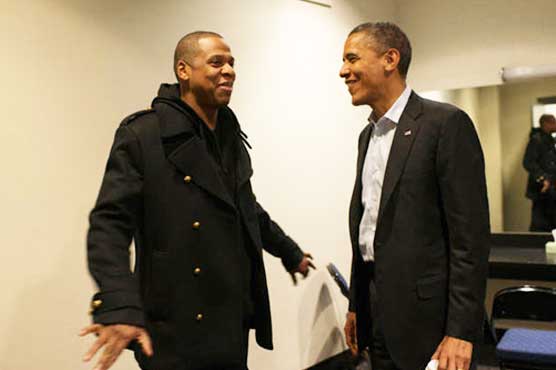 Obama made a surprise appearance by video to present the honor to Jay Z.
NEW YORK (AFP) - Former US president Barack Obama hailed Jay Z as a kindred spirit as the hip-hop mogul became the first rapper to enter the Songwriters Hall of Fame on Thursday.
The elite club also welcomed Motown records' pathbreaking founder Berry Gordy at its annual induction -- an evening of performances by top stars that, like songwriters themselves, stayed decidedly lower-key than televised award galas.
Obama made a surprise appearance by video to present the honor to Jay Z, who grew up as Sean Carter in a troubled housing project in Brooklyn and has gone on to become one of music's wealthiest entrepreneurs.
"I like to think Mr Carter and I understand each other. Nobody who met us as younger men would have expected us to be where we are today," Obama said of the rapper, who with his wife Beyonce actively campaigned for the first African-American president.
Obama said he related to Jay Z in that neither grew up with a father, both understood deprivation "and, let's face it, we both have wives who are significantly more popular than we are."
Obama described himself as a longtime fan of Jay Z and, in a veiled reference to his successor Donald Trump, said: "I'm pretty sure I'm still the only president to listen to Jay Z's music in the Oval Office."
"That may change at some point, but I'm pretty sure that's true now," he said.
Jay Z did not appear at the ceremony. Beyonce is pregnant with twins, and his absence is sure to fuel speculation that her delivery date is approaching.
The rapper took to Twitter to thank artists who influenced him. In a speech in his name, his music publisher Jon Platt said the award came after years of rappers being told "you're not songwriters."
"Jay would want you to know that this induction is a signal that your time has come and your time is now," he said.
---
Respect for songwriters

---
Pitbull, the bilingual Cuban-American rapper, took the most political turn of the gala as he received an award for global contributions.
He warned that the United States is being led by "a donkey" in Trump, saying music has the power to unite people across barriers.
But creative people are too often overlooked even though their content grosses billions, he added.
"We are the reason that these tech guys get to put on jeans and a T-shirt," Pitbull said.
Jimmy Jam also called for respect to songwriters as he was inducted alongside Terry Lewis, his longtime partner. The duo is best known for developing Janet Jackson's sound as well as hits such as The Human League's "Human," which the pair performed at the gala.
"We're like the farmers," he said. "Without us the music doesn't exist for anybody -- for Spotify, Pandora, you name it."
---
New award for Motown legend

---
Motown's still-sprightly 87-year-old founder Gordy was inducted for songwriting after winning myriad other awards.
"All I can say is that it's about time," he said before enjoying a standing ovation.
Gordy wrote classic songs from The Contours' "Do You Love Me" to the signature tunes of The Jackson 5. He found a home for his music by creating Motown in Detroit, once the country's biggest African-American-owned business.
"Songwriting was my first love and protecting that love was the motivation for everything else I did," Gordy said.
"All I had to do was to convince white disc jockeys that my songs were music for all people," he added.
Other songwriting inductees included Max Martin, the Swede who has worked with Taylor Swift, Katy Perry, Adele and other stars to create some of the 21st century's biggest chart-toppers; Babyface, the force behind dozens of R&B hits by Whitney Houston and other artists; and Robert Lamm and James Pankow of the jazz-rock band Chicago.
The 26-year-old English superstar Ed Sheeran received an award for young songwriters and performed an acoustic version of his "Castle on a Hill."
"Performing a gig feels good, drinking alcohol feels good, having sex feels good," he said. "But writing a song -- there is nothing like that moment."