Mayor arrested in Venice flood barrier fraud probe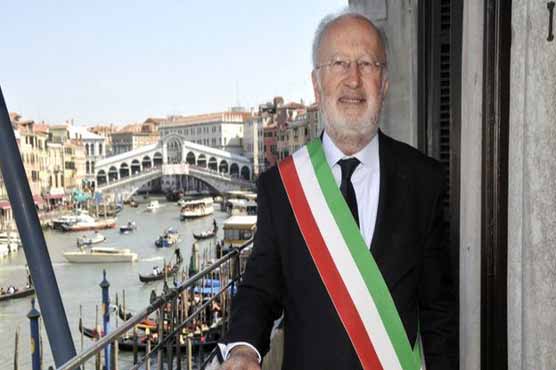 Prosecutors accused mayor Giorgio Orsoni of benefiting from illegal party financing.
ROME (AFP) - Italy s financial police on Wednesday placed the mayor of Venice under house arrest in a sweeping corruption investigation into a multi-billion-euro flood barrier project to save the island city from rising sea levels.
Prosecutors accused mayor Giorgio Orsoni of benefiting from illegal party financing linked to the embezzlement of public funds for the project, which began in 2003 but has been badly delayed and is now set to be completed in 2016.
Orsoni s lawyers said the charge was "hardly credible".
Nine other politicians and business leaders were placed under house arrest and 25 more have been jailed in a fraud investigation involving around 100 people in total including a retired top police general.
Prosecutors have also requested the arrest of two lawmakers -- former culture minister Giancarlo Galan and European Parliament member Lia Sartori -- both from former prime minister Silvio Berlusconi s Forza Italia (Go Italy) party.
The police said they had traced some 20 million euros ($27 million) in kickbacks from contractors for the "Mose" (Moses) project that were transferred into foreign bank accounts allegedly used for political party financing.
"Most of these funds were used for financing political parties on a local, regional and national level," chief prosecutor Luigi Delpino said at a press conference.
Some 300 officers took part in raids in different parts of the country and seized assets worth 40 million euros.
The scandal is the latest surrounding a major public works project in Italy, following similar investigations into building for Milan Expo 2015, post-quake reconstruction in L Aquila and preparations for the G8 summit in 2009.
"The way we handle public works in this country generates bribes. Everything is concentrated in the hands of very few entities and people to move fast," Massimo Cacciari, a former mayor of Venice, told news channel SkyTG24.
- Dragged through the mud -
The anti-establishment Five Star Movement was quick to seize on the scandal as an example of political corruption involving members both of Prime Minister Matteo Renzi s ruling centre-left Democratic Party which mayor Orsoni belongs to and of the main opposition Forza Italia party.
"What more do these parties need to do to no longer deserve a vote from Italian citizens?" Luigi Di Maio, a leading member of the Five Star Movement, said on his Facebook page.
The scandal engulfed Venice at the start of peak tourist season, with the arrival looming of most of the 20 million visitors who come to the famous canal city every year.
"Today is a sad day for the entire city. Our name is being dragged through the mud," Claudio Scarpa, head of the Venice hoteliers association, said in a statement.
"The local political class needs to change the way it operates... We need new, honest and clean faces," he said.
Galan, who is also a former governor of the Venice region, inaugurated the project together with Berlusconi but plans for the flood barrier had been discussed for decades before then -- ever since a catastrophic flood in 1966.
The need for protection has become ever urgent as extensive flooding now wreaks havoc every year and new data shows the city sank 23 centimetres during the 20th century while water levels have also slowly been rising.
The total cost of the project is estimated at around 5.5 billion euros and involves dozens of contractors working on more than 20 kilometres of the Venice lagoon to build 78 mobile flood barriers that rise from the seabed when needed.
The "acqua alta" (high water) in Venice is caused by a combination of tides, currents and strong winds and can flood much of the city including St Mark s Square.