Last Updated On 26 November,2017 11:05 pm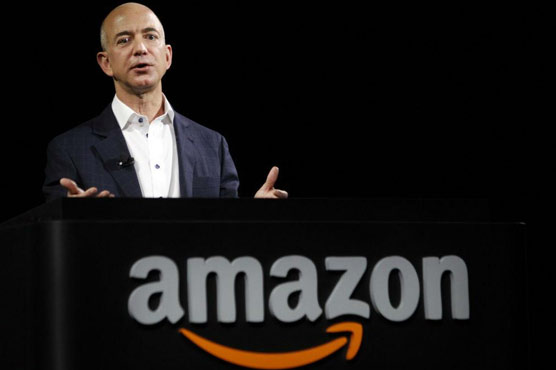 With Amazon scoring its landmark sales on Black Friday, the company CEO has also grown in worth
(Web Desk) – The CEO of Amazon, Jeff Bezos, has crossed the USD 100 billion mark in net worth after his company scored landmark sales and generated high revenue on Black Friday.
The Verge reported that Amazon's stock skyrocketed after Black Friday sales. It is for the first time that Bezos' wealth crossed 1,00,000,000,000 dollars. He was already the richest person in the Forbes' list.
Bezos has bypassed Microsoft owner Bill Gates in 2016 when both exchanged places. Gates was the last person to cross the 12 figure mark and it was in 1999 after the success of his windows operating system programmes.
Certain business reports claimed that Amazon may have had half of all online sales on Black Friday. Bezos' net worth expanded with Amazon's stock swelling on the big day.
---
Black Friday protests
---
Meanwhile, AFP reported that Workers at Amazon s distribution centres in Germany and Italy went on strike to demand better pay and conditions in a protest timed to disrupt the online retailer s Black Friday sales bonanza.
Some 2,000 Amazon employees walked off the job at six sites in Germany, the giant services sector union Verdi said, vowing to continue the industrial action on Saturday.
"Orders placed by Prime customers today will not be delivered before next week," Verdi said in a statement, referring to the premium service that usually sees deliveries arrive within 1-2 days.
In Berlin, several hundred demonstrators took to the streets against the US online giant, carrying signs that read "Block Black Friday" and "Make Amazon pay -- we are more than robots or data".
So-called Black Friday is the now-traditional day of steep discounts in the run-up to Christmas that has taken the world by storm.
"This is the best day for us to make ourselves heard and put pressure on this employer," Verdi spokesman Thomas Voss told AFP.
As well as demanding better wages, he singled out health concerns as among the workers main grievances, complaining about a high-stress work environment with "insufficient" recovery times.
"Amazon is permanently endangering the health of its employees," Verdi said, criticising the pressure to "always do more in less time" and the "constant performance evaluations and surveillance".
The labour action affected Amazon s German facilities in Bad Hersfeld, Leipzig, Rheinberg, Werne, Graben and Koblenz.
Also in Italy, workers took part in a one-day strike at Amazon s Castel San Giovanni distribution centre in the north of the country.
Verdi said media reports had put the number of walkouts at around 500.
In a statement to Italian media, Amazon said it remained focused on sticking to the promised delivery times for purchases, and urged workers to "share their questions and concerns directly with their team leaders".
Black Friday and its online cousin Cyber Monday mark the unofficial kick-off to the holiday shopping period, when retailers around the world slash prices to lure shoppers.
German bargain-hunters last year spent an additional 1.7 billion euros over the Black Friday to Cyber Monday period, according to the German trade association.