Shutdown looms as US Senate, House advance separate spending plans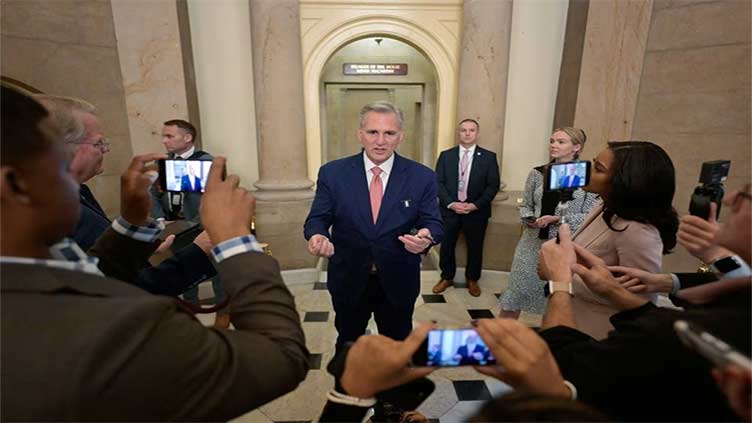 World
The divergent paths of two houses appeared to increase the odds that government will run out of cash
WASHINGTON (Reuters) – The Democratic-led US Senate forged ahead on Thursday with a bipartisan stopgap funding bill aimed at averting a fourth partial government shutdown in a decade, while the House began voting on partisan Republican spending bills with no chance of becoming law.
The divergent paths of the two chambers appeared to increase the odds that federal agencies will run out of money on Sunday, furloughing hundreds of thousands of federal workers and halting a wide range of services from economic data releases to nutrition benefits.
The House of Representatives voted 216-212 on a bill funding the State Department and other aspects of foreign affairs, the first in a series of four partisan appropriations bills that would not alone prevent a shutdown, even if they could overcome strong opposition from Senate Democrats and become law.
The Senate earlier in the day had voted 76-22 to open debate on a stopgap bill known as a continuing resolution, or CR, which would extend federal spending until Nov. 17, and authorize roughly $6 billion each for domestic disaster response funding and aid to Ukraine to defend itself against Russia.
The Senate measure has already been rejected by Republicans, who control the House.
House Republicans, led by a small faction of hardline conservatives in the chamber they control by a 221-212 margin, have rejected spending levels for fiscal year 2024 set in a deal Speaker Kevin McCarthy negotiated with Biden in May.
The agreement included $1.59 trillion in discretionary spending in fiscal 2024. House Republicans are demanding another $120 billion in cuts, plus tougher legislation that would stop the flow of immigrants at the U.S. southern border with Mexico.
The funding fight focuses on a relatively small slice of the $6.4 trillion US budget for this fiscal year. Lawmakers are not considering cuts to popular benefit programmes such as Social Security and Medicare.
McCarthy is facing intense pressure from his caucus to achieve their goals. Several hardliners have threatened to oust him from his leadership role if he passes a spending bill that requires any Democratic votes to pass.
Former President Donald Trump has taken to social media to push his congressional allies toward a shutdown.
McCarthy, for his part, suggested on Thursday that a shutdown could be avoided if Senate Democrats agreed to address border issues in their stopgap measure.
"I talked this morning to some Democratic senators over there that are more aligned with what we want to do. They want to do something about the border," McCarthy told reporters in the US Capitol.
"We're trying to work to see, could we put some border provisions in that current Senate bill that would actually make things a lot better," he said.
The House Freedom Caucus, home to the hardliners forcing McCarthy's hand, in an open letter to him on Thursday demanded a timeline for passing the seven remaining appropriations bills and a plan to further reduce the top-line discretionary spending figure, among other questions.
"No Member of Congress can or should be expected to consider supporting a stop-gap funding measure without answers to these reasonable questions," the letter, led by the group's chair, Republican Representative Scott Perry, read.
'ONE OPTION TO AVOID A SHUTDOWN'
The Senate measure has passed two procedural hurdles this week with strong bipartisan support.
"Congress has only one option - one option - to avoid a shutdown: bipartisanship," Senate Majority Leader Chuck Schumer said on Thursday. "With bipartisanship, we can responsibly fund the government and avoid the sharp and unnecessary pain for the American people and the economy that a shutdown will bring."
Credit agencies have warned that brinkmanship and political polarization are harming the US financial outlook. Moody's, the last major ratings agency to rate the US government "Aaa" with a stable outlook, said on Monday that a shutdown would harm the country's credit rating.
Fitch, another major ratings agency, already downgraded the US government to "AA+" after Congress flirted with defaulting on the nation's debt earlier this year.