Germany warns EU on hitting China with Russia sanctions - sources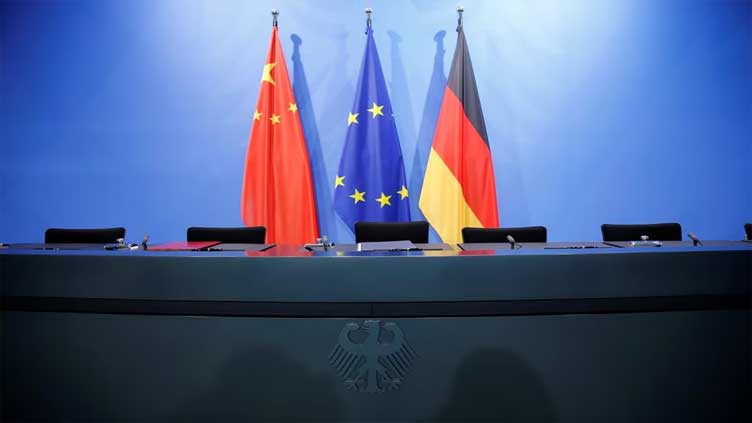 World
Germany warns EU on hitting China with Russia sanctions - sources
BRUSSELS (Reuters) - Germany led calls urging caution against targeting China under new European Union sanctions over Russia's invasion of Ukraine during a first discussion among the bloc's 27 countries on proposed new restrictions, five diplomatic sources said.
The EU is discussing its 11th package of sanctions since Russia invaded Ukraine, meant to focus on those circumventing existing trade restrictions.
The bloc's executive proposed blacklisting several Chinese companies and introducing a new mechanism that would open the way to a possible restriction of EU exports in the future to countries that flout sanctions.
That latter part raised concern with Germany, according to the sources. Several other countries also spoke of the need to strike a balance between enforcing sanctions and upsetting international diplomatic and trade ties, they said.
Italy backed Germany's proposal to target foreign companies, rather than countries, over any circumvention of sanctions, according to the sources familiar with the Wednesday discussion, held behind closed doors. The diplomats spoke under condition of anonymity on Thursday.
Germany's diplomatic mission to the EU declined to comment.
German government sources in Berlin said they were critical of making the EU sanctions "extraterritorial" in a bid to fight circumvention.
Companies from Kazakhstan, Armenia and Uzbekistan, as well as Iranian drone makers, were also put forward for blacklisting, under the proposal by the bloc's executive European Commission, according to the sources.
'SIGNIFICANT CHOICES'
While criticised by the EU's Russia hawks as not going far enough, the proposal highlights the expanding scale and scope of the bloc's sanctions as the war drags on.
"A number of member states recognise the very significant foreign policy choices that would be involved in moving ahead with listing third countries," said a senior EU official.
"The fact that the proposal was put forward sends a warning sign in itself, regardless of whether we agree the time is now to include those companies and create a new scheme for targeting countries, or give them a bit more time to engage."
The official and a sixth EU diplomat said the bloc should also push its own companies to avoid circumvention.
All EU countries need to agree for new sanctions to be enacted, something that might take time given varying interests and what the sources said was fundamentally a new approach that required a lot of technical work and clarifications.
The member states' envoys to EU hub Brussels and the bloc's foreign ministers meeting in Stockholm are due to discuss the matter on Friday, though no final decision is expected then. While some hope for an agreement in May, others point to a June 29-30 summit of EU leaders as more likely.
The proposed new sanctions would also target individuals involved in forcibly moving Ukrainian children to Russia, and outlaw oil supplies through the northern leg of the Druzhba pipeline with the exception of Kazakhstan, said the sources.
New restrictions would highlight that oil tankers are not allowed to offload in high seas or arrive in ports with their GPS trackers off, an attempt to push back against flouting G7 restrictions on trading Russian oil, according to the sources.
During the discussion on Wednesday, most countries welcomed the idea of further restricting road transit of EU goods via Russia and some raised the need to revise the G7 oil cap, said the sources.