At least 39 migrants die in fire at Mexico facility near US border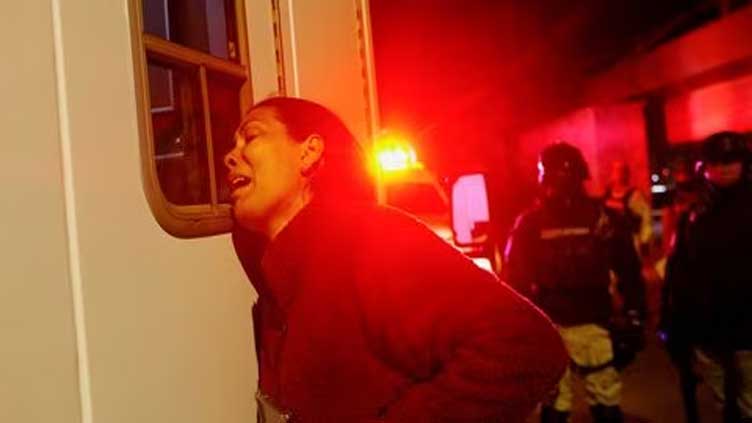 World
At least 39 migrants die in fire at Mexico facility near US border
CIUDAD JUAREZ (Reuters) - At least 39 migrants from Central and South America died after a fire broke out late on Monday at a migrant holding center in the Mexican northern border city of Ciudad Juarez, the government's National Migration Institute (INM) said on Tuesday.
In a statement, the INM said there were 68 adult men from Central and South America staying at the facility in the city opposite El Paso, Texas, and that 29 of them were also injured in the blaze and taken to four hospitals in the area.
A Reuters witness saw bodies lined up in body bags and confirmed that the fire, whose origins are under investigation, had been extinguished. Many of the migrants at the facility were Venezuelan, according to the Reuters witness.
"I was here since one in the afternoon waiting for the father of my children, and when 10 p.m. rolled around smoke started coming out from everywhere," said 31-year-old Viangly Infante, a Venezuelan national.
Her husband, 27-year-old Eduard Caraballo, was in a holding cell inside the facility when the fire started and survived by dousing himself in water and pressing against a door, said Infante, who added she saw many dead bodies lying on the ground.
A Mexican official said the dead also included migrants from Guatemala and Honduras.
The fire, one of the most lethal to hit the country in years, occurred as the U.S. and Mexico are battling to cope with record levels of border crossings at their shared frontier.
Recent weeks have seen a build-up of migrants in Mexican border cities as authorities attempt to process asylum requests using a new U.S. government app known as CBP One.
Many migrants feel the process is taking too long and earlier this month hundreds of mostly Venezuelan migrants got into a scuffle with U.S. officials at the border after their frustration welled up about securing asylum appointments.
In January, the Biden administration said it would expand Trump-era restrictions to rapidly expel Cuban, Nicaraguan and Haitian migrants caught illegally crossing the U.S.-Mexico border in an effort to contain the border flows.
At the same time, the United States said it would allow up to 30,000 people from those three countries plus Venezuela to enter the country by air each month.
The blaze in Ciudad Juarez is one of the deadliest incidents to afflict migrants in Mexico in the past few decades.
In December 2021, at least 55 people were killed and the dozens were injured when a truck packed with migrants flipped over in the southern border state of Chiapas.
Seventy-two migrants were massacred by drug cartel gunmen in the northern Mexican state of Tamaulipas in 2010.
Forty-nine children died following a blaze in a daycare center in the northern city of Hermosillo in 2009.