Paid menstrual leave in France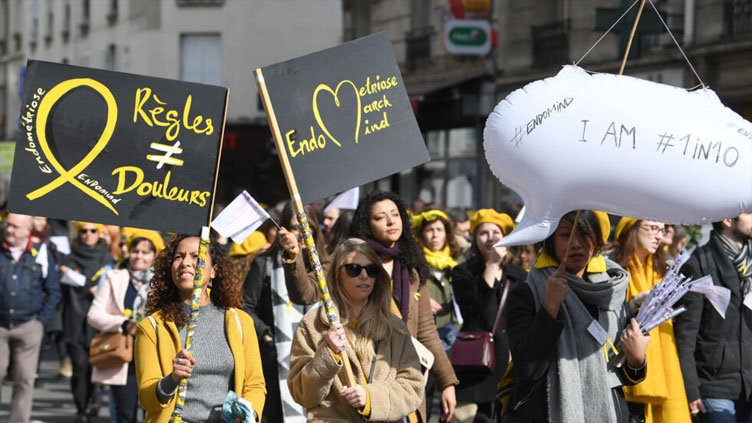 World
Paid medical leave to female staff suffering from period pain
(AFP) – The town of Saint-Ouen on the northern edge of Paris has become the first French municipality to grant paid medical leave to female staff suffering from period pain, hoping to "break a taboo" on the subject and inspire similar moves at the national level.
The scheme, which came into force on March 27, allows the city's 1,200 women employees to take up to two days off each month, subject to a doctor's approval, without loss of salary.
It comes a month after Spain's left-wing government passed groundbreaking legislation granting similar rights to women nationwide, in a first for a European country.
Saint-Ouen's Socialist mayor Karim Bouamrane first announced the move on March 8, to coincide with International Women's Day, saying he hoped to inspire French legislators to follow suit.
"We must put an end to this suffering in silence – and indeed this denial of suffering," the mayor told France Info radio on Monday, noting that up to one in every two women experienced painful and sometimes incapacitating periods.
"The aim is to break a taboo on the subject and that women who suffer from painful periods no longer feel stigmatised," he added.
The new rules in Saint-Ouen, part of the Seine-Saint-Denis département (county) northeast of Paris, will allow women to choose between taking time off or working from home.
Feminist groups have long campaigned for greater support for women's health at work, though the subject of paid menstrual leave has proved divisive amid concern it could hinder women's access to the labour market.
"It's a half-measure that conceals the need for a more comprehensive approach to women's health at work," Ophélie Latil of the feminist group Georgette Sand told French daily Le Monde. Sending women home "only isolates them and covers up their pain", she said.
Advocates of paid menstrual leave, however, say it will foster debate on the subject and help raise awareness of illnesses such as endometriosis, a debilitating disease that causes chronically painful periods and, in some cases, infertility.
'Democratise the subject'
Last week, some two dozen local councilors in Seine-Saint-Denis signed a letter calling for Saint-Ouen's pioneering scheme to be extended to other municipalities, Le Monde reported.
"Opening debate on paid menstrual leave will help democratise the subject (and) facilitate diagnosis of endometriosis," the letter said.
Saint-Ouen's Bouamrane has urged trade unions and legislators to work on a "comprehensive framework offering legal and financial protection" to smaller municipalities that cannot afford paid menstrual leave without outside support.
In Paris, city councillors backed the principle of menstrual leave for the French capital's 30,000 female employees in a preliminary vote earlier this month, calling on the government to "clarify" the country's labour laws to ensure the move is legal.
Meanwhile, left-wing lawmakers in the French parliament are working on a bill to extend paid menstrual leave to the private sector, with only a handful of French companies currently offering such schemes.
In January last year, French President Emmanuel Macron unveiled the contours of a national strategy to combat endometriosis, stressing the need to "break the silence" on an illness that affects some 2.5 million women in France.
His announcement was broadly welcomed by advocacy groups, though critics lamented the lack of a timetable and detail about funding. The strategy made no mention of paid menstrual leave.
Under the menstrual leave scheme introduced by Spain's government last month, the state social security system – not employers – picks up the tab for the sick leave.
Aside from Spain, only a small number of countries across the globe offer paid menstrual leave, including Japan, Indonesia and Zambia.