Bolsonaro's legal woes deepen with undeclared diamond gifts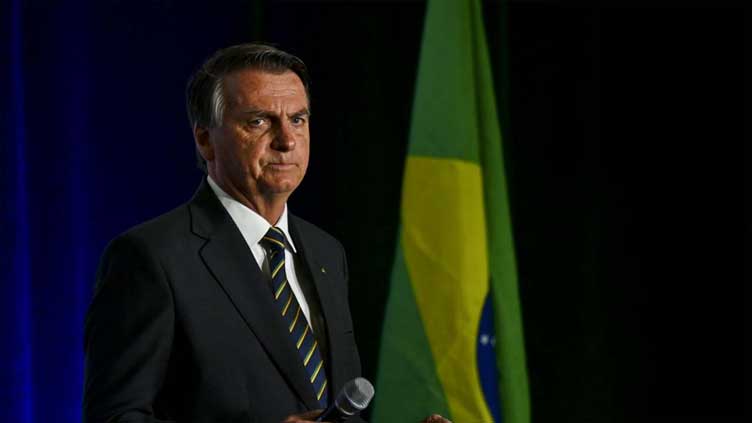 World
Bolsonaro's legal woes deepen with undeclared diamond gifts
RIO DE JANEIRO (AP) — Undeclared diamond jewelry brought into Brazil from Saudi Arabia has deepened the legal jeopardy of former Brazilian President Jair Bolsonaro. An investigation into two sets of jewels reportedly worth millions is only the latest scandal threatening the far-right politician. But an extensive paper trail and even videos could make the case particularly daunting for Bolsonaro.
WHAT HAPPENED WITH THE DIAMONDS?
Federal police and prosecutors are investigating whether Bolsonaro tried to sneak two sets of expensive diamond jewelry into Brazil without paying taxes — and whether he improperly sought to prevent the items from being incorporated into the presidency's public collection. Authorities are also looking into whether he enlisted public officials to try to bypass customs.
The first set of jewels, composed of earrings, a necklace, a ring and a watch by Swiss brand Chopard, arrived in Brazil in October 2021 through Sao Paulo's international airport with an adviser to the then minister for mines and energy, Bento Albuquerque, according to the newspaper O Estado de S.Paulo, which first reported the case in early March.
Customs authorities seized the jewels, which are reportedly worth $3 million. A video released by television network Globo shows Albuquerque at customs later the same day stating that the jewels were for Bolsonaro's wife, Michelle.
A second set of jewels, also made by Chopard and including a watch, a pen, a ring, cuff links and a piece resembling a rosary, slipped past authorities and ended up in Bolsonaro's possession. The watch is worth about $150,000, the newspaper Folha de S.Paulo reported.
A government watchdog on March 22 ordered Bolsonaro to turn the jewelry over to the state-owned Caixa Economica Federal bank, as well as firearms he received as a gift from authorities in the United Arab Emirates. Bolsonaro's representatives did so on Friday.
Brazil requires its citizens arriving by plane from abroad to declare goods worth more than $1,000 and, for any amount above that exemption, pay a tax equal to 50% of their value. The two sets of jewelry would have been exempt from tax had they been a gift from the state of Saudi Arabia to the nation of Brazil, but would not have been Bolsonaro's to keep.
Bruno Dantas, a member of Brazil's government watchdog, said a president could receive a gift for personal use without paying taxes as long as it was of low value, such as a T-shirt of a country's national football team. Expensive jewelry does not meet the criteria, he said.
The watchdog said it will audit all gifts received by Brazil's presidency during Bolsonaro's term.
WHAT DID BOLSONARO DO ABOUT THE CONFISCATED JEWELS?
Documents and video footage appear to show Bolsonaro making multiple unsuccessful attempts to retrieve the seized jewelry.
A letter from the presidential office was sent to Albuquerque requesting that the jewels be released, O Estado de S.Paulo reported. The ministries of foreign affairs and mines and energy also sent letters pressuring customs authorities. Then Bolsonaro sent a personal letter to customs, O Estado de S.Paulo said.
A last attempt came in the closing days of Bolsonaro's presidency. According to a document viewed by O Estado de S.Paulo, on Bolsonaro's orders a sergeant took a military plane to Sao Paulo's airport in a failed effort to force the release. Globo released a video of the sergeant speaking with custom authorities.
WHAT LEGAL ISSUES HAS THE CASE RAISED?
The Senate's transparency commission is investigating whether the sale of a refinery by Brazil's state-controlled oil giant Petrobras to the United Arab Emirates' Mubadala Capital was related to the jewels. Mubadala didn't respond to a request for comment sent Friday.
Petrobras completed the sale for $1.65 billion one month after the first set of jewels was seized in Sao Paulo. The price was "way below" fair market value, an oil workers' union said in a recent statement.
Rodrigo Sánchez Rios, a law professor at Pontifical Catholic University in the city of Curitiba, said Bolsonaro could potentially face trial on several counts, including influence peddling, embezzlement, money laundering and corruption.
"This is potentially the crime with the most evidence currently implicating Bolsonaro," said legal expert Wallace Corbo from the Getulio Vargas Foundation, a think tank and university.
WHAT HAS BOLSONARO SAID ABOUT THE JEWELRY?
"There was no intention on our part to disappear with this material," Bolsonaro told television network Record on Wednesday during an event in Florida. He previously told CNN Brasil that he neither asked for nor received the confiscated jewelry.
Bolsonaro's attorney Frederick Wassef said in a statement on March 7 that the former president "officially declared personal property received on trips," and is the target of political persecution.
WHAT ARE BOLSONARO'S OTHER LEGAL PROBLEMS?
The former president has denied any wrongdoing in all of the various cases under investigation, most recently whether he incited the Jan. 8 riots in which his supporters ransacked the Supreme Court, the presidential palace and Congress one week after leftist Luiz Inácio Lula da Silva was inaugurated as president.
Bolsonaro is the subject of a dozen investigations by Brazil's electoral court into his actions during the presidential election campaign, particularly related to his unsubstantiated claims that Brazil's electronic voting system is susceptible to fraud. If Bolsonaro were found guilty in any of those cases, he would lose his political rights and be unable to run for office in the next election.
Separately, Bolsonaro and his allies are also under investigation in a sprawling Supreme Court-led investigation on the spread of alleged falsehoods and disinformation in Brazil.
Federal police are also investigating Bolsonaro and his administration for alleged genocide of the Indigenous Yanomami people in the Amazon rainforest by encouraging illegal miners to invade their territory and thereby endangering their lives. He has called the accusation a "hoax from the left."