Turkey's pro-Kurdish party will not field candidate in election setback for Erdogan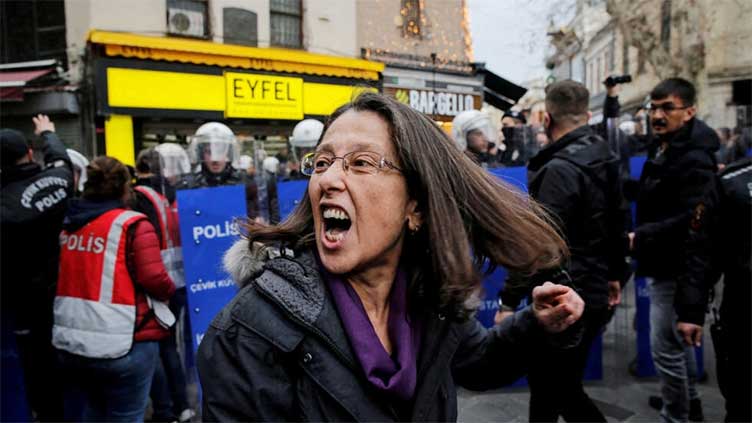 World
Turkey's pro-Kurdish party will not field candidate in election setback for Erdogan
TURKEY (Web Desk) - Turkey's main pro-Kurdish party said Wednesday it would not field a presidential candidate in May elections, giving tacit support to Recep Tayyip Erdogan's rival in the crucial vote.
The decision by the Peoples' Democratic Party (HDP) reduces the possibility of a damaging split of the anti-Erdogan vote, boosting the chances of the opposition alliance's joint candidate, Kemal Kilicdaroglu. Winning more than 10 percent of the vote in the past three national elections, the HDP was widely seen as a kingmaker in the tightly contested race.
"We will not field a candidate in the presidential elections," Pervin Buldan, the party co-chairwoman, told reporters.
"We will fulfil our historic responsibility to end one-man rule in the coming elections," she said, condemning Erdogan's consolidation of power over his two decades as prime minister and president.
The HDP's decision strips Erdogan of a key voting bloc in what is widely seen as Turkey's most important election of its post-Ottoman history. Erdogan enjoyed some support from Kurdish voters earlier in his rule.
His government once worked with HDP politicians in an effort to put an end to a decades-long fight by Kurdish insurgents for an independent state that has claimed tens of thousands of lives. But he now accuses the HDP -- parliament's third largest party -- of being the political wing of the PKK militants.
The leftist party denies the charges and says it is being singled out for its fierce criticism of the government's social and economic policies. Erdogan and his far-right allies in parliament are now trying to dissolve the HDP over its alleged terror ties.
Turkey's Constitutional Court on Wednesday rejected the HDP's request to delay the outcome of the case until after the May 14 election. The HDP was excluded from a six-party opposition alliance that has rallied around Kilicdaroglu's candidacy.
The anti-Erdogan alliance includes staunchly nationalist parties that refuse to work with the HDP. Meeting with HDP leaders on Monday, Kilicdaroglu promised to remove restrictions on the Kurdish language and address other Kurdish concerns.