Putin hosts Assad, expected to focus on rebuilding Syria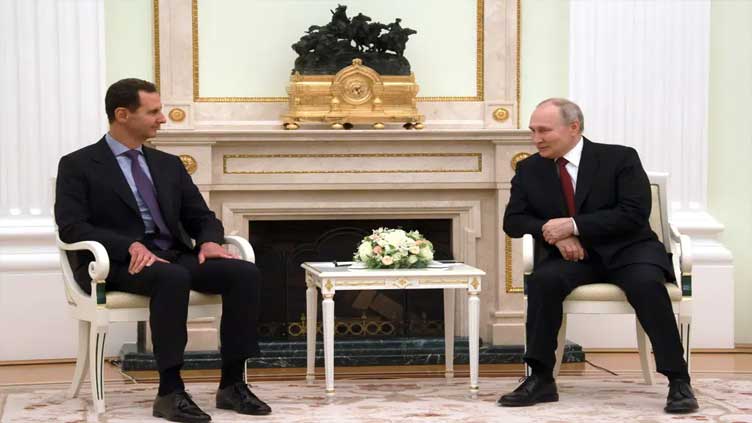 World
Putin hosts Assad, expected to focus on rebuilding Syria
MOSCOW (AP) — Russian President Vladimir Putin on Wednesday hosted Syrian leader Bashar Assad in the Kremlin for talks expected to focus on rebuilding Syria after a devastating civil war and mending Damascus' ties with Turkey.
Welcoming Assad at the start of the meeting that comes on the anniversary of Syria's 12-year uprising-turned-civil war, Putin emphasized the Russian military's "decisive contribution" to stabilizing the country.
Russia has waged a military campaign in Syria since September 2015, teaming up with Iran to allow Assad's government to fight back armed opposition groups and reclaim control over most of the country. While Russia has concentrated the bulk of its military resources in Ukraine, Moscow has maintained its military foothold in Syria and kept warplanes and troops at its bases there.
Assad thanked Putin for backing Syria's sovereignty and territorial integrity, noting that the Kremlin's support has remained strong despite the fighting in Ukraine.
"Even though Russia now is also conducting the special operation, its position has remained unchanged," Assad said, using the Kremlin's "special military operation" term for the Russian action in Ukraine.
Moscow has provided robust political support to Assad at the United Nations and actively mediated to help repair his government's ties with regional powers.
Some Arab countries that had called in the past for the downfall of Assad have sent aid following the catastrophic Feb. 6 earthquake that hit Turkey and Syria killing more than 50,000 including over 6,000 in Syria.
International sympathy following the quake appeared to have sped up the regional rapprochement, with some calling for dialogue with Syria and for bringing the country back to the 22-member Arab League more than a decade after its membership was suspended over the crackdown in the early months of the uprising that turned into war.
As part of the ongoing rapprochement, the foreign ministers of Egypt and Jordan recently made their first visit to Damascus since the conflict began in March 2011 and met with Assad.
Prior to the earthquake, Russia had been mediating talks between Turkey and Syria.
Turkey has backed armed opposition groups in Syria that have sought to overturn Assad's government during the civil war, which has killed nearly 500,000 people and displaced half of the country's prewar population. Syria has demanded that Turkey withdraws from an enclave it controls in northwestern Syria in order for Damascus to normalize its relations with Ankara.
In December, Moscow hosted surprise talks between the Syrian and Turkish defense ministers. Arab media reported that one of the main topics that Assad will discuss with Putin during their meeting on Wednesday is reconciliation between Syria and Turkey.
Asked if Putin's talks with Assad could play a role in restoring Syria's ties with Turkey, Kremlin spokesman Dmitry Peskov responded that "the issue of the Syrian-Turkish relations will undoubtedly be part of the talks' agenda."
Even though Turkey has backed Syrian opposition fighters in the north, Ankara and Damascus share dismay over the U.S.-backed Kurdish-led Syrian Democratic Forces in Syria's northeast. Turkey-backed opposition fighters have clashed with the SDF in the past, accusing them of being an arm of Turkey's outlawed Kurdistan Workers' Party, or PKK. The PKK has for decades waged an insurgency within Turkey against the government in Ankara.
Assad's government has cast the SDF as a secessionist force that has been pilfering the country's wealth while controlling Syria's major oil fields.
The Syrian, Turkish and Russian deputy foreign ministers as well as a senior adviser to their Iranian counterpart were expected to hold talks Wednesday and Thursday in Moscow to discuss "counterterrorism efforts" in Syria, although Syria's Deputy Foreign Minister Ayman Sousan was quoted by pro-government media as saying that the meeting "is still under discussion."