Ukraine documents alleged atrocities by retreating Russians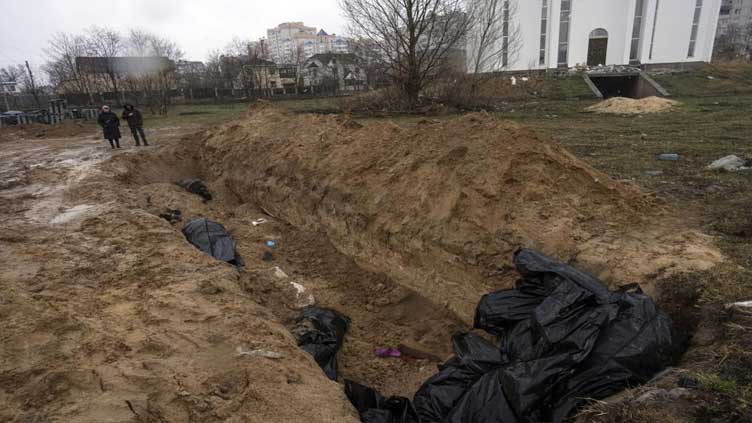 World
Ukraine documents alleged atrocities by retreating Russians
BUCHA (AP) — Ukraine's troops found brutalized bodies with bound hands, gunshot wounds to the head and signs of torture after Russian soldiers withdrew from the outskirts of Kyiv, authorities said Sunday, sparking new calls for a war crimes investigation and sanctions against Russia.
Associated Press journalists in Bucha, a small city northwest of the capital, saw the bodies of at least nine people in civilian clothes who appeared to have been killed at close range. At least two had their hands tied behind their backs. The AP also saw two bodies wrapped in plastic, bound with tape and thrown into a ditch.
Authorities said they were documenting evidence of alleged atrocities to add to their case for prosecuting Russian officials for war crimes. To convict, International Criminal Court prosecutors will need to show a pattern of indiscriminant deadly assaults on civilians during Russia's invasion.
Oleksiy Arestovych, an adviser to Ukrainian President Volodymyr Zelenskyy, said scores of residents were found slain on the streets of Bucha and the Kyiv suburbs of Irpin and Hostomel in what looked like a "scene from a horror movie."
Some people were shot in the head and had their hands bound, and some bodies showed signs of torture, Arestovych said. There also were reports of rapes, he said.
A day earlier, AP journalists witnessed Ukrainian soldiers gingerly removing at least six bodies from a street in Bucha with cables in case the Russians had booby-trapped corpses with explosives before their withdrawal. Local residents said the dead people were civilians killed without provocation, a claim that could not be independently verified.
"What happened in Bucha and other suburbs of Kyiv can only be described as genocide," Kyiv Mayor Vitali Klitschko told German newspaper Bild. Klitschko called on other nations to immediately end Russian gas imports, saying they were funding the killings.
"Not a penny should go to Russia anymore. That's bloody money used to slaughter people. The gas and oil embargo must come immediately," the mayor said.
Russian troops moved into Ukraine from three sides on Feb. 24, and soldiers who entered from the north in Belarus spent weeks trying to clear a path to Kyiv. Their advance stalled in the face of resolute defiance from Ukraine's defenders, and Moscow said this week it would concentrate the invasion elsewhere going forward.
Signs of fierce fighting were everywhere in the wake of Russian troops retreating north to back to Belarus: destroyed armored vehicles from both armies lay in streets and fields along with scattered .