Published On 17 May,2021 08:06 pm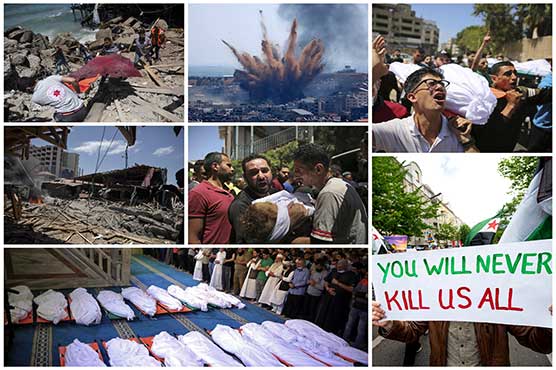 The grim number includes 58 children and 40 women
(Dunya News) – The death toll from Israeli attacks on the blockaded Gaza Strip rose to 212, including 40 women and 59 children on Tuesday.
The grim number includes 59 children and 40 women, the ministry said in a statement, while more than 1,300 people have been injured during the offensive.
Before dawn, within just a few minutes, dozens of Israeli strikes bombarded the crowded Palestinian coastal strip controlled by Islamist group Hamas.
Flames lit up the sky as intense explosions shook Gaza City, sparking widespread power cuts and damaging hundreds of buildings, local authorities said.
The Israeli military has staged airstrikes across the Gaza Strip since May 10, leaving behind a massive trail of destruction across the seaside territory.
There were also reports that the Israeli army said Hussam Abu Harbeed, a top commander of the Islamic Jihad armed group, has been killed in an Israeli air raid in Gaza. In a statement confirming it had killed Harbeed, the Israeli military said he "was behind several anti-tank missile terror attacks against Israeli civilians".
On the other hand, tens of thousands of people have taken to the streets in cities around the world, from New York and London to Cape Town and Auckland, demanding an end to deadly Israeli air raids on the Gaza Strip.
---
Protect civilians
---
US Secretary of State Antony Blinken urged Israel and Palestinians to "protect civilians, especially children", reiterating that Israel "as a democracy has an extra burden" to do so.
"We ll continue to conduct intensive diplomacy to bring this current cycle of violence to an end" and "we are ready to lend support, if the parties seek a ceasefire", Blinken told a press conference in Copenhagen.
He reiterated Washington s support for Israel s right "to defend itself", stressing there was "no equivalence between a terrorist group indiscriminately firing rockets at civilians and a country defending its people from those attacks."
"So we call on Hamas and other groups in Gaza to end the rocket attacks immediately." However, he added that "Israel as a democracy has an extra burden to do everything possible to avoid civilian casualties."
---
Pakistan calls for US role
---
Pakistan had expressed "deep concern and anguish" on the situation in the occupied Palestinian territories and stressed the "importance of [a] US role" in addressing the situation, a Pakistani statement said.
US Secretary of State Antony Blinken spoke with Pakistani Foreign Minister Shah Mehmood Qureshi by telephone late on Sunday, according to statements from both governments.
"The [Pakistani] Foreign Minister apprised Secretary Blinken of Pakistani people's deep concern and anguish on the worsening humanitarian situation in the Israeli Occupied Palestinian Territories and underscored the importance of [a] US role in ensuring necessary steps to help address the dire situation, restore peace, and facilitate a just solution," read the Pakistani statement.
---
China urges US to play constructive role
---
China also renewed calls for the US to play a constructive role in ending the conflict in Gaza and stop blocking efforts at the United Nations to demand an end to the bloodshed.
Foreign Ministry spokesperson Zhao Lijian said China, as rotating head of the Security Council, has urged a cease-fire and the provision of humanitarian assistance, among other proposals, but that obstruction by "one country" has prevented the council from speaking with one voice.
"We call on the United States to assume its due responsibility and take an impartial position to support the council and play its due role in cooling down the situation and rebuilding trust for a political solution," Zhao said at a daily briefing.
China "strongly condemns" violence against civilians and calls for an end to air strikes, ground attacks, rocket fire and "other actions that aggravate the situation," Zhao said.
---
UN fails to adopt statement
---
Turkey has described the UN's failure to adopt a press statement after debating the Israeli-Palestine issue on Sunday as "simply unacceptable".
"Failure to adopt even a press statement on an issue that has been on the Council's agenda since almost its inception is simply unacceptable," said Feridun Sinirlioglu, Turkey's ambassador to the UN, in a written statement sent to the UN Security Council (UNSC) meeting on the conflict.
Sinirlioglu strongly condemned Israel's aggression, including airstrikes, against Palestinians and conveyed condolences to the Palestinian nation for the loss of lives, including infants and children.
Decrying the Israeli attack on the UN Relief and Works Agency for Palestine Refugees (UNRWA) schools in Gaza, he said attacks on schools constitute war crimes.
"Since the start of the Israeli aggression, over 40 children have died in Gaza. If a classroom full of kids was blown up elsewhere, how many days would it have taken for this Council to have a public meeting?" he asked, criticizing the late meeting that came 10 days after the start of the Israeli attacks.
---
US legislators question arms sale
---
Some United States legislators are questioning whether a $735 million approved weapons sale to Israel by President Joe Biden's administration could be used as leverage amid the continuing bombardment of the Gaza Strip, the Washington Post reported.
The arms sale, which Congress was notified of on May 5, a week before the current Israel-Palestinian escalation began, includes Joint Direct Attack Munitions (JDAMs), which are used to turn bombs into precision-guided missiles, according to the newspaper.
"Allowing this proposed sale of smart bombs to go through without putting pressure on Israel to agree to a ceasefire will only enable further carnage," a legislator on the House Foreign Affairs Committee told the newspaper.