Published On 16 May,2021 05:34 pm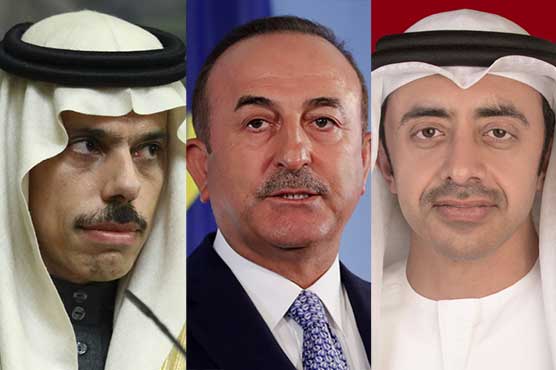 Turkish FM said it is time to show unity and determination on Palestine
DUBAI (Web Desk) - Saudi Arabia on Sunday condemned Israel s "flagrant violations" of Palestinian rights and called for global action to end military attacks while fellow Gulf states that forged ties with Israel said a ceasefire was needed for regional stability.
Saudi Foreign Minister Prince Faisal bin Farhan Al Saud, addressing a meeting of the Organisation of Islamic Cooperation (OIC) as hostilities between Israel and militants in Gaza entered a seventh day, condemned what he called the violation of the sanctity of Islamic holy sites.
He also denounced the "forcible" eviction of Palestinians from their homes in East Jerusalem and urged the international community to end this "dangerous escalation" and revive peace negotiations based on a two-state solution.
"East Jerusalem is a Palestinian land that we do not accept to harm it," the foreign minister added.
"The Kingdom categorically rejects the Israeli violations against the Palestinians ... and calls for an immediate end to the Israeli escalation."
The minister said that Saudi Arabia calls on the international community to shoulder its responsibility "in the face of Israeli violations," adding that they must intervene to end Israel's actions.
The Kingdom renews its support for the Arab Peace Initiative, which guarantees Palestinians' right to a state with East Jerusalem as its capital, Prince Faisal added.
Emirati and Bahraini ministers at the virtual gathering of the 57-member OIC called for a ceasefire and stressed the importance of preserving the identity of Jerusalem, which contains sites sacred to Judaism, Islam and Christianity.
"De-escalation and the highest degree of restraint are important to avoid dragging the region to new levels of instability," said UAE Minister of State for International Cooperation Reem al-Hashimy.
Time to show unity
Meanwhile, addressing the extraordinary meeting of the OIC, Turkish Foreign Minister Mevlut Cavusoglu said that it is time to show unity and determination on Palestine, and Turkey is ready to take any necessary step.
Cavusoglu said that Israel also targeted members of the press and that half of those who lost their lives in Gaza were women and children. He said that the international community has a duty to protect Palestinian civilians, and the OIC has a great responsibility in this context.
He also touched on the importance of international protection mechanism for Palestinian civilians in line with a 2018 UN General Assembly resolution.
Stating that this mechanism can be established with the financial and military contributions of volunteer countries, Cavusoglu also stated that the Israeli political and military officials who have been found guilty of violating Palestinians' rights should be held responsible.
He added that in this context, the International Criminal Court has a special role.
Stating that efforts to normalize ties with Israel have emboldened it, he added: "We should stand for justice and humanity. There should be no other considerations. This is time to show our unity and decisiveness. The ummah (Muslim community) expects our leadership and courage, and Turkey is ready to take whatever action is necessary."
Tensions have been running high in the Sheikh Jarrah neighborhood of East Jerusalem and at the Al-Aqsa Mosque since the Muslim holy month of Ramadan as Israeli forces and settlers assaulted Palestinians.
The tensions spread from East Jerusalem to Gaza after Palestinian resistance groups there vowed to retaliate against Israeli assaults on the Al-Aqsa Mosque and Sheikh Jarrah if they were not halted.
Israel occupied East Jerusalem, where Al-Aqsa is located, during the 1967 Arab-Israeli war. It annexed the entire city in 1980 in a move never recognized by the international community.