Published On 10 May,2021 10:28 pm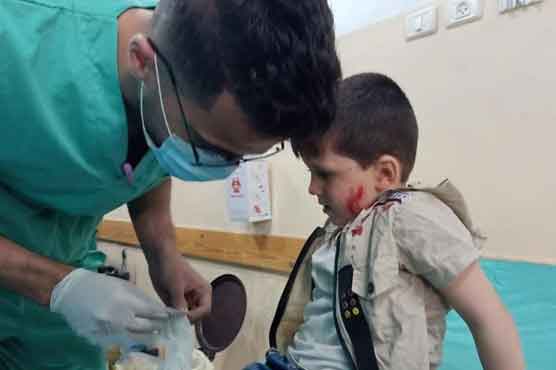 Nine martyred including three children after Gaza air strikes
GAZA CITY (Web Desk) - Nine people were martyred including three children amid air raids in the Gaza Strip by Israeli forces on Monday.
Israel was bombing Hamas targets in Gaza in response to earlier rocket fire directed towards Israel.
Earlier 17 Palestinians had sustained severe wounds in major attacks by Israeli police near the Al-Aqsa mosque compound in Jerusalem today (Monday).
The Palestine Red Crescent ambulance service said one of the injured lost an eye, two suffered serious head wounds, and two had their jaws fractured. Most were wounded in the face and eyes by rubber-coated rounds and shrapnel from stun grenades.
The clashes broke out on Friday when Israeli police deployed heavily as Muslims were performing evening prayers at Al-Aqsa during the holy month of Ramazan.
Many of the worshippers stayed on to hold peaceful protest in support of Palestinians facing eviction from their homes on Israeli-occupied land claimed by Jewish settlers in the Sheikh Jarrah neighbourhood of East Jerusalem.