Last Updated On 05 January,2020 11:08 pm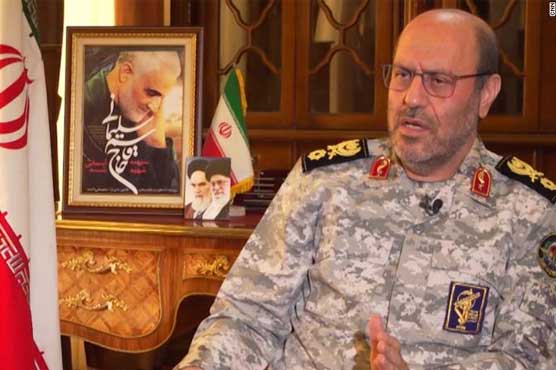 Brigadier General Dehghan said that Iran would not seek war with the US.
TEHRAN (Web Desk) – A top Iranian military commander on Sunday the Islamic Republic's response to US assassination of Iran s top military commander, Lt Gen Qassem Soleimani, and the second-in-command of Iraq s Popular Mobilization Units (PMU), Abu Mahdi al-Muhandis, will only be 'against military sites'.
Hossein Dehghan, Iran's former defense minister and current military adviser to the Leader of the Islamic Revolution Ayatollah Seyyed Ali Khamenei, made the remark in an interview with CNN in Tehran on Sunday, stressing that "the response for sure will be military and against military sites."
Lieutenant General Soleimani, along with Abu Mahdi al-Muhandis, the deputy chief of the Iraqi pro-government Popular Mobilization Units (PMU), was assassinated on Friday. Four other Iranians as well as four Iraqis accompanying them were also martyred.
The Pentagon said in a statement that American President Donald Trump had ordered the US military to assassinate the top Iranian commander.
Brigadier General Dehghan said that Iran would not seek war with the US. "Let me tell you one thing: Our leadership has officially announced that we have never been seeking war and we will not be seeking war," Dehghan said.
"It was America that has started the war. Therefore, they should accept appropriate reactions to their actions. The only thing that can end this period of war is for the Americans to receive a blow that is equal to the blow they have inflicted. Afterward they should not seek a new cycle," he added.
On Saturday, Trump threatened in a number of tweets that if Tehran attacked American assets, Washington would strike "52" Iranian targets, "very hard and very fast."
Dehghan described the American president's tweets as "ridiculous and absurd." "[Trump] doesn t know international law. He doesn t recognize UN resolutions either. Basically he is a veritable gangster and a gambler. He is no politician he has no mental stability," the Iranian brigadier general added.
Dehghan referred to UN Resolution 2347, which condemns the unlawful destruction of cultural heritage, blasting Trump who had also threatened that an unspecified number of those targets would be Iran's cultural sites.
The Iranian military commander added that if logic and rationality were to be taken into account, Trump would be considered a war criminal, who would be tried in a relevant court of law.