Germany analyses Saudi oil attack; China says can't apportion blame without facts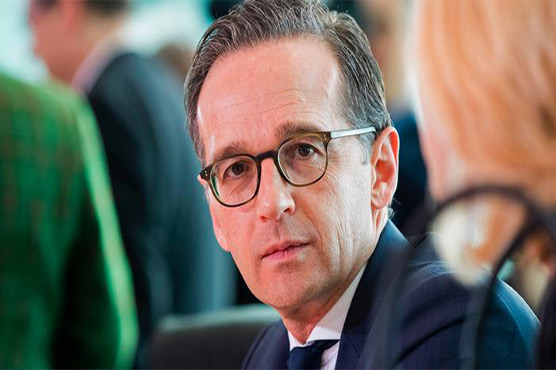 U.S. President Donald Trump said on Sunday that the United States was "locked and loaded."
BERLIN (Reuters) - Foreign Minister Heiko Maas said on Monday that Germany was working with its partners to find out who carried out the attacks on Saudi Arabia's oil facilities, adding the incidents posed a danger of the situation escalating further.
"At the moment we're analysing, along with our partners, who is responsible for this attack and how it could happen," Maas told a news conference.
Furthermore, he pointed out that Yemen's Houthis have claimed the responsibility of the attacks.
U.S. President Donald Trump said on Sunday that the United States was "locked and loaded" for a potential response to the attack on Saudi Arabia's oil facilities, after a senior official in his administration said Iran was to blame.
Yemen's Iran-aligned Houthi group has claimed responsibility for the attack, but U.S. Secretary of State Mike Pompeo said there was no evidence the attack came from Yemen.
A senior U.S. official told reporters that evidence from the attack, which hit the world's biggest oil-processing facility, indicated Iran was behind it. Iran has denied this.
---
China says can't apportion blame for Saudi attack without facts
---
China's Foreign Ministry maintained that it was irresponsible to blame anyone for an attack on Saudi Arabia's oil facilities without conclusive facts, striking a cautious note after the United States blamed Iran.
Speaking in Beijing, Chinese Foreign Ministry spokeswoman Hua Chunying appealed for calm and restrain.
"Pondering who is to blame in the absence of a conclusive investigation I think is in itself not very responsible. China's position is that we oppose any moves that expand or intensify conflict," Hua told a daily news briefing.
"We call on relevant parties avoid taking actions that bring about an escalation in regional tensions. We hope all sides can restrain themselves and can jointly safeguard the peace and stability of the Middle East."
China has close economic, diplomatic and energy relations with both Riyadh and Tehran and has long had to tread carefully in its ties with both. Saudi Arabia is China's top oil supplier year to date.
Saudi Arabia's King Salman visited Beijing in 2017, and Saudi Crown Prince Mohammed bin Salman came to China earlier this year.
Iranian Foreign Minister Mohammad Javad Zarif met the Chinese government's top diplomat, State Councillor Wang Yi, in Beijing late last month.
---
Russia: oil price hike reflects risks
---
The spike in global oil prices on Monday was expected as prices need to reflect risks after an attack on Saudi Arabia's oil infrastructure, Russian energy minister Alexander Novak told reporters late on Monday.
The attack on Saudi Arabia that triggered the biggest jump in oil prices in almost 30 years was carried out with Iranian weapons, a Saudi-led coalition said on Monday.
"Everyone expected the prices to rise somewhat on Monday, because the price takes into account uncertainty and risks. I think the market will be reacting on the situation based on the information that will be coming out from Saudi Arabia," Novak said.
Speaking to reporters in an airplane on their way back to Moscow from Ankara on Monday evening, Novak said he did not have time to talk to Saudi energy minister as Novak was busy at talks between leaders of Russia, Turkey and Iran held on Monday.
"We can talk (later). Our specialists are in contact," Novak said. Russia is an ally of Riyadh in a global pact to curb supply.
The leaders of Turkey, Russia and Iran met in Ankara on Monday and agreed to try to ease tensions in northwest Syria's Idlib region, but disagreements between the countries appeared to linger, especially over the threat from Islamic State.
When asked whether there was the need to call for a meeting between Russian oil producers and the ministry to update their approach after the Saudi incident, Novak replied with a question: "What kind of approaches can be developed if we do not have any information?"
Earlier on Monday, Novak said there was enough oil in global stockpiles to replace barrels Saudi Arabia had temporary lost due to the attacks.