Multiple injuries, wide evacuations in US oil refinery explosion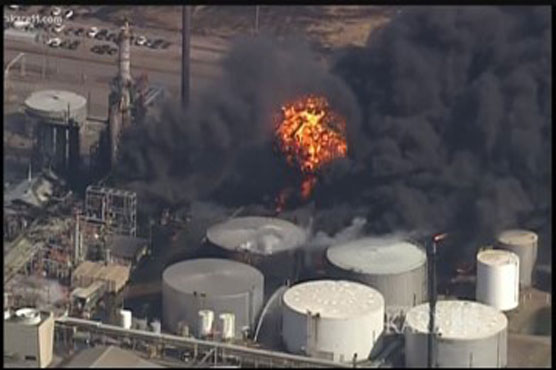 Several people were injured in an explosion and fire at an oil refinery in US state of Wisconsin.
SUPERIOR (AFP) - Several people were injured and an expansive area was evacuated Thursday after an explosion and fire at an oil refinery in the Midwestern US state of Wisconsin.
Residents were ordered to evacuate across a wide area of Superior, a city with a population of 27,000 near the northern tip of the state and less than 200 miles (320 kilometers) from the Canadian border.
An initial explosion occurred around 10:06 am (1506 GMT) at the Husky Energy oil refinery. It was followed by multiple subsequent explosions and a spreading fire that appeared to burn out of control inside the refinery complex -- spewing thick black smoke high up into the sky.
Six people were injured and taken to hospitals, along with several "walking wounded" treated at the scene, Superior Mayor Jim Paine told a news conference.
"At this point there have been no fatalities," Paine said.
The smoke prompted officials to order evacuations within a two to three-mile radius of the refinery and 10 miles to the south.
Area schools were closed and evacuation centers opened for residents.
"I m told that this fire will likely burn until the fuel is consumed -- and that could be a couple of days," Superior police chief Nicholas Alexander told television station WDIO.
The fire was concentrated around areas of the refinery where asphalt is stored, officials said. The complex processes crude oil and makes asphalt.
"The asphalt is on fire," said refinery manager Kollin Schade. "It s a little like tires. Once you get going, they re very hot and they re hard to extinguish."
Officials said they did not know the cause of the explosions.
The fire department was attempting to keep the fire from spreading, but was not actively fighting the fire, awaiting additional equipment and resources.
"We can t get people close enough to actually put the fire out," fire department battalion chief Scott Gordon said.
The initial explosion on Thursday morning shook local residents.
Cheryl Thielman, 58, who manages a mobile home park near the refinery, described hearing a "huge boom."
"It shook the trailer park," she said, at the time suspecting that "maybe a train had possibly derailed" at the nearby railroad tracks.
A man leaving a local hospital, identified only as "Jesse," told television station WDIO that he was a refinery worker injured by the blast, suffering a burst eardrum in one ear and a sprained ankle.
"It was pretty intense... shook my brain," he said. "I was trapped in a flame ball... smoke everywhere. Barely got out of there."
The refinery, which Husky Energy purchased last year, processes crude oil from Canadian and North Dakota fields.
Roughly 165 employees work at the refinery at any given time, Schade said, along with contractors.
"Fortunately, they all are accounted for," Schade said.
The facility processes about 2.3 million gallons of oil per day, according to the Duluth News Tribune.