Last Updated On 13 March,2018 05:38 pm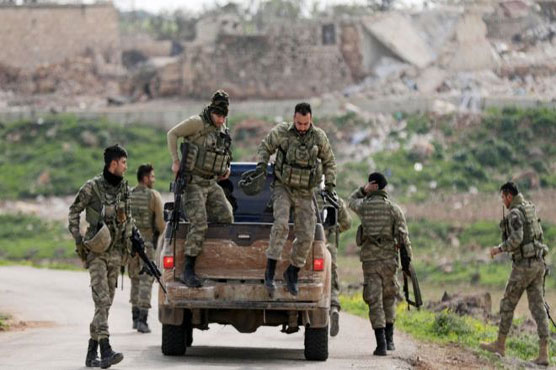 Turkey said Tuesday its army and allied rebels had surrounded the Kurdish city of Afrin in Syria.
BEIRUT (AFP) - Turkey said Tuesday its army and allied rebels had surrounded the Kurdish city of Afrin in northern Syria, raising the prospect of another devastating siege in the country s long conflict.
With Syria s war set to enter its eighth year this week, fighting continues on several fronts, including around Afrin and in Eastern Ghouta near Damascus, where preparations were under way on Tuesday for the evacuation of wounded civilians.
While attention in recent weeks has focused on a ferocious regime assault on rebel-held Ghouta, in Syria s north Turkish forces and allied Syrian rebels have been advancing in their offensive against the Kurdish enclave of Afrin.
In a statement on Tuesday, the Turkish military said it had completed the encirclement of the city of Afrin, home to some 350,000 people and defended by a well-armed Syrian Kurdish militia, the People s Protection Units (YPG).
The Turkish military provided no further details.
The Syrian Observatory for Human Rights, a Britain-based monitor, said Turkish forces had de facto surrounded the area by moving to within firing range of the last road leading out of the city towards regime-controlled areas. It said the area included some 90 villages to the west of Afrin city.
The surrounding of Afrin city would be a key step in Turkey s "Olive Branch" operation, launched on January 20 and aimed at ousting the YPG, a key partner of the US-led coalition fighting the Islamic State group.
Ankara regards the YPG as a terror group and a branch of militants in Turkey who have waged an insurgency for decades.
Hundreds of civilians were seen fleeing the city of Afrin on Monday towards areas under the control of Syrian pro-regime forces.
It remains unclear what Turkey s next move will be, with some analysts suggesting it will be content to lay siege to Afrin for some time and allow civilians to leave to avoid a high-casualty offensive.
Forces loyal to President Bashar al-Assad have meanwhile been pressing an assault to retake the opposition-held enclave of Eastern Ghouta, the last major rebel stronghold near to Damascus.
Since it was launched on February 18, pro-regime forces have retaken nearly 60 percent of the enclave, whittling down rebel territory to three isolated pockets.
Backed by Russia, the advance has battered Eastern Ghouta with air strikes, artillery and rocket fire, raising widespread international concern and prompting urgent calls for a ceasefire.
The UN Security Council passed a resolution last month calling for a 30-day ceasefire to allow for aid deliveries and medical evacuations from the enclave, but both have been sporadic.
The Red Crescent was preparing on Tuesday to evacuate more people in desperate need of medical care through a humanitarian corridor established by the regime and its ally Russia.
The rebel faction controlling Eastern Ghouta s main town of Douma, Jaish al-Islam, said a group of "critical medical cases" would be evacuated on Tuesday though the Wafideen checkpoint at the edge of the enclave.
An AFP reporter at the checkpoint saw Syrian Arab Crescent ambulances on standby.
A military source at the checkpoint confirmed "an evacuation today of wounded and grave medical cases along with a number of civilians".
More than 1,180 civilians have been reported killed since the assault was launched on Eastern Ghouta, home to some 400,000 people who have been living under a crippling government siege since 2013.
International efforts to end the offensive have largely failed. The United States presented a new draft resolution to the Security Council on Monday, as France urged Russia to put pressure on Damascus to end what its UN envoy called a "bloodbath".
Syria s conflict broke out in March 2011 with peaceful protests against Assad, but a regime crackdown paved the way for a fully-fledged war.
At least 353,935 people have died since, including more than 106,000 civilians, according to the Observatory.
Thanks in large part to Russian military and diplomatic support, Assad s forces have managed to retake most of the territory seized by opposition fighters during the conflict.
Syrian troops have used siege tactics in several areas, sealing off rebel-held territory and pressing a military operation before securing an evacuation deal.
The government has reportedly been pursing separate negotiation tracks over the three rebel-held pockets of Eastern Ghouta, focused on local truces or potential evacuation deals for rebels and civilians.
Opposition forces have denied holding talks with the regime.