Emails show UAE lobbied US to sack Tillerson for backing Qatar: reports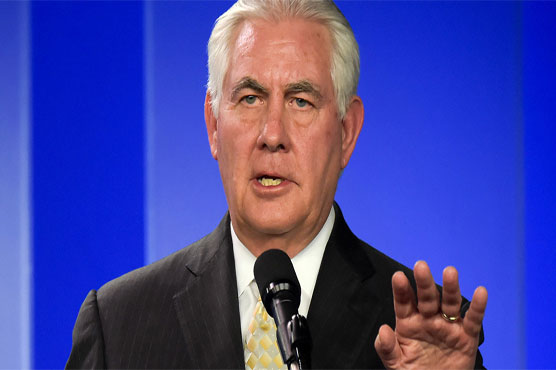 Sender Elliott Broidy said in the emails that Tillerson was "performing poorly and should be fired.
LONDON (Agencies) - Leaked emails obtained by the BBC on Monday show that the UAE lobbied the US to sack Secretary of State Rex Tillerson for failing to side with the Emirates in its struggle against Qatar.
The sender of the emails, Elliott Broidy, owns a private security company that has contracts with the UAE worth hundreds of millions of dollars. He is a fundraiser for US President Donald Trump and met him in October.
According to the BBC article, the emails are an account of what he told Trump during that meeting.
Broidy said in the emails that Tillerson was "performing poorly and should be fired at a politically convenient time".
In June, Saudi Arabia, the United Arab Emirates, Egypt and Bahrain cut off all air, land and sea links to Qatar. Trump sided with the four-nation coalition, saying that the tiny petrochemical nation funded terrorism.
But Tillerson has criticised the embargo of Qatar. When the blockade began, Tillerson said it was "impairing US and other international business activities in the region".
Broidy also said Qatar was "a television station with a country," referring to the broadcast network Al Jazeera. He added that the network has done "nothing positive".
Al Jazeera has routinely aired critical coverage of Saudi Arabia and the UAE, most recently of their involvement in Yemen's civil war.
Broidy sent the emails to George Nader, a Lebanese-American businessman who operates as an adviser to the UAE's military chief, Mohammed bin Zayed.
Both Broidy and Nader are people of interest in Robert Mueller's probe into whether Trump illegally collaborated with foreign countries during the presidential campaign, the New York Times reported on Sunday.
"Mueller s investigators have questioned Nader and have pressed witnesses for information about any possible attempts by the Emiratis to buy political influence by directing money to support Trump during the presidential campaign, according to people with knowledge of the discussions," the paper reported.
In a rebuttal to the leak, a spokesperson for Broidy's defence company, Circinus, told the BBC that Qatar hacked his emails and that they "may have been altered".
"We have reason to believe this hack was sponsored and carried out by registered and unregistered agents of Qatar seeking to punish Mr Broidy for his strong opposition to state-sponsored terrorism," the spokesperson said.
Qatar has denied these claims.
"Qatar would like to state unequivocally that it has not engaged in or committed any of the alleged accusations made falsely by Mr Broidy, nor has it engaged or paid anyone to do so," the country's communications office told the BBC.