Last Updated On 13 September,2017 08:08 am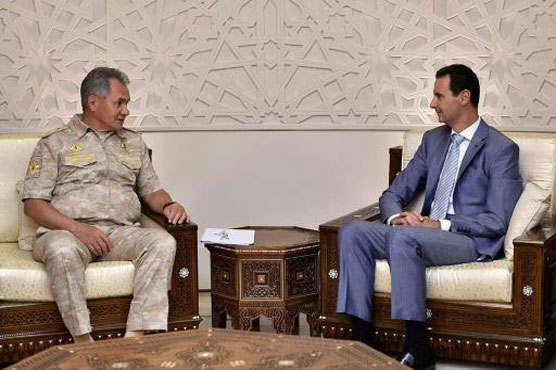 Syrian President Bashar al-Assad welcomed Russian Defence Minister to Damascus on Tuesday.
MOSCOW (AFP) - Syrian President Bashar al-Assad welcomed Russian Defence Minister Sergei Shoigu to Damascus on Tuesday as Syrian forces supported by the Russian army prepare to make a final push into parts of the eastern city of Deir Ezzor.
Shoigu gave a letter from Russian President Vladimir Putin to Assad "congratulating him on lifting the siege imposed by Islamic State terrorists in the city of Deir Ezzor," according to a statement by the Syrian presidency.
Last week Syrian troops, backed by Russian airstrikes, broke the siege of two enclaves in and around Deir Ezzor, which had been encircled by jihadists for nearly three years.
An unwavering ally of Assad s regime, Russia militarily intervened in the Syria s six-year conflict in September 2015 when the government was in trouble in its fight against rebels and jihadist groups.
The Damascus regime has had many victories since and now controls nearly all Syria s main cities.
The loss of Deir Ezzor would be a major blow to the jihadist group, whose territory in Syria and neighbouring Iraq has been shrinking.
Shoigu and Assad, who last met in June 2016 in Damascus, discussed their "military and tactical cooperation... for the destruction of the Islamic State group in Syria," a statement from the Russian defence ministry said.
According to the Syrian president, the meeting emphasised "the importance of the Astana process," with a new round of peace talks scheduled on Thursday and Friday aiming to strengthen de-escalation zones meant to allow the establishment of a lasting ceasefire in Syria.
In a statement issued Tuesday, the Russian army claimed that more than 450 IS fighters had been killed in the Deir Ezzor offensive.
"Only yesterday, the Russian airforce carried out more than 50 flights to help the Syrian army s offensive," the statement said.