Taliban raid kills 20 policemen in southern Afghanistan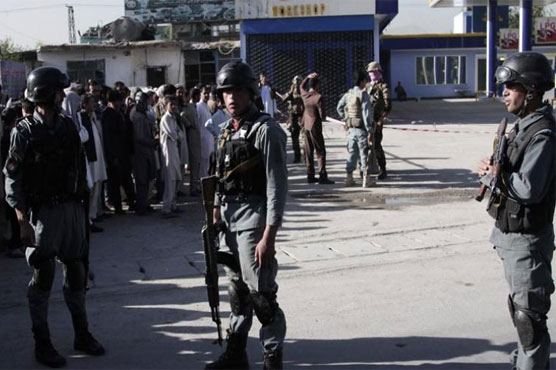 The coordinated attack is another stinging blow to NATO-backed Afghan forces.
KANDAHAR, Afghanistan (AFP) - At least 20 Afghan policemen were killed early Sunday when Taliban fighters stormed multiple security outposts in the volatile southern province of Zabul, officials said, as the insurgents escalate their annual spring offensive.
Local officials made desperate calls to Afghan television stations to seek attention as they were unable to get hold of senior authorities for help, highlighting the disarray in security ranks.
The coordinated attack is another stinging blow to NATO-backed Afghan forces. It comes just a month after the Taliban killed at least 135 security forces in northern Balkh province, in the deadliest insurgent attack on an Afghan military base.
"This morning, a group of Taliban fighters armed with heavy and light weapons launched coordinated attacks on several police checkpoints in Shah Joy district of Zabul province, killing 20 policemen," provincial governor Bismillah Afghanmal told AFP.
A district official told AFP that at least 15 others were wounded in the fighting.
The Taliban claimed responsibility for the attack on their website. The raid, the latest in a series of brazen Taliban assaults, underscores the insurgents' growing strength more than 15 years since they were ousted from power by the US invasion of 2001.
Taliban militants launched their annual "spring offensive" in late April, heralding a surge in fighting as the US tries to craft a new Afghan strategy and NATO considers sending more troops to break the stalemate against the resurgent militants.
The offensive normally marks the start of the fighting season, though this winter the Taliban continued to battle government forces.
US Defense Secretary Jim Mattis last month warned of "another tough year" for security forces in Afghanistan.
His comments came after Taliban fighters dressed in army uniforms and armed with suicide vests attacked a military base outside the northern city of Mazar-i-Sharif last month, killing at least 135 policemen and soldiers.
The brazen attack prompted fury in Afghanistan, leading to the resignations of defence minister Abdullah Habibi and army chief Qadam Shah Shaheem.
The US State Department denounced the "barbaric, unconscionable" attack, but stressed that America has no intention of giving up on the country despite more than 15 years of brutal war.
The Pentagon has asked the White House to send thousands more troops to Afghanistan to break the deadlocked fight against the Taliban.
US troops in Afghanistan number about 8,400 today, and there are another 5,000 from NATO allies, who also mainly serve in an advisory capacity -- a far cry from the US presence of more than 100,000 six years ago.