Last Updated On 12 August,2016 01:43 pm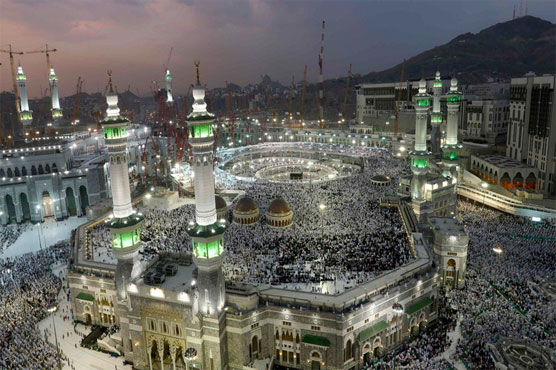 The step has been taken to ensure easy performance of Hajj for pilgrims.
RIYADH (Dunya News / AFP / AP) – Saudi Arabia has banned the entry of ordinary citizens in Makkah in order to make Hajj easier for the people.
Saudi authorities have said that people residing in other parts of the country have been banned however; the citizens and workers of Makkah and pilgrims possessing a permit will be allowed the entry.
The step has been taken to ensure easy performance of Hajj for pilgrims.
According to new regulations, those pilgrims who did not have a Hajj permit will be deported and will not be allowed to enter Saudi Arabia for the next 10 years.
Moreover, special safety arrangements have been made for Hajj in the ongoing year.
Muslim pilgrims will have to wear an electronic safety bracelet.
The high-tech safety measure will help authorities provide care "and identify people", the Arab News and Saudi Gazette reported.
The bracelets are water resistant, connected to a GPS location system, and store each pilgrim's personal information including address and medical records, the newspapers said.
In another safety measure, more than 800 surveillance cameras have been installed at Mecca's Grand Mosque, Islam's holiest site, the Saudi Gazette reported this month.
As many as 1.5 million external and domestic pilgrims are expected to perform hajj this year, the Saudi Central Hajj Committee was told.
The first batches of pilgrims for this year's hajj arrived on Thursday in Jeddah and Madinah from the Indian subcontinent. The first flight was from New Delhi that landed at Prince Muhammad International Airport in Madinah.
It was followed by a flight from Pakistan while the first flight which landed at the hajj Terminal of Jeddah's King Abdulaziz International Airport (KAIA) was from Dhaka, Bangladesh.
A total number of 143,370 pilgrims from Pakistan and 136,020 from India will perform hajj this year. The first batch of pilgrims from non-Arab African countries arrived at King Abdulaziz International Airport in Jeddah on Saturday from South Africa.
As many as 1,000 Palestinian pilgrims will perform hajj this year as the guests of Custodian of the Two Holy Mosques King Salman.
They represent the families of the martyrs in the occupied lands, said an official with the guest pilgrim program.
More than 7,000 staffers, representing 27 government and private agencies, have been engaged in implementing the hajj operation plan during the 75-day hajj season. According to the plan, all the lounges of the hajj terminal will be converted into arrival lounges from Aug. 4 to Sept. 5 and departure lounges from Sept. 17 to Oct. 16.
At least 2,297 pilgrims died during the stampede on September 24 during last year's hajj, according to data from foreign officials, some of whom expressed concerns about difficulty in identifying the victims.
Saudi Arabia issued a death toll of 769.
Amid unusually strong winds, the 1,350-tonne crane collapsed onto the Grand Mosque that houses Islam's holiest site bringing down slabs of concrete on worshippers below. The tragedy on September 11 was the first of two major incidents to mar last year's Hajj.
11 Pakistanis were among those killed in the crane collapse, according to Pakistan's Religious Affairs Ministry.