Angry Sikhs protest against Modi in California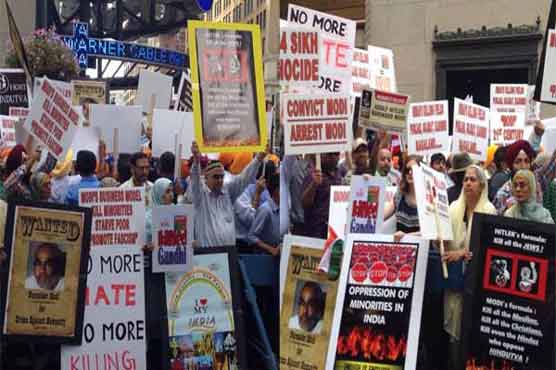 Massive digital hoardings also came up in San Jose ahead of the much anticipated grand reception.
SAN JOSE, CALIFORNIA (Reuters/Agencies) - Lights flashed and chants of "Modi, Modi" filled the 18,000-seat sports arena in San Jose, California, on Sunday as the Indian premier took the stage for the final event of his Silicon Valley tour, marked by sporadic protests over his human rights record.
Prime Minister Narendra Modi was winding up a whirlwind two-day U.S. West Coast trip and Sunday s event followed visits to some of the world s biggest technology companies, hoping to convince them to bring more investment and jobs to India.
Though Modi remains wildly popular in India with an 87 percent approval rating, some of his stops were met with protests of his human rights record. Some claim that Modi did not do enough to stop 2002 religious riots in Gujarat that killed about 1,000 people, mostly Muslims, when he was chief minister of the state. He has vehemently denied any wrongdoing.
Mostly Sikh protesters calling on Modi to answer for his rights record temporarily blocked one of Facebook s entrances. Several hundred people gathered outside San Jose s SAP Center ahead of Modi s speech that lasted several hours. Half were protesters shouting over metal barricades and holding signs that said "Modi believes in violence, not development," and "#ModiFail" that resulted in several scuffles.
According to International Business Times (IBT) report, massive digital hoardings also came up in San Jose, California ahead of the much anticipated grand reception at SAP Center organised for Prime Minister Narendra Modi, accusing him of implementing "regressive" policies in India that hamper "freedoms and human rights" of Indian communities.
The hoardings have reportedly been put up by the Alliance for Justice and Accountability (AJA), a liberal judicial watchdog group in the United States.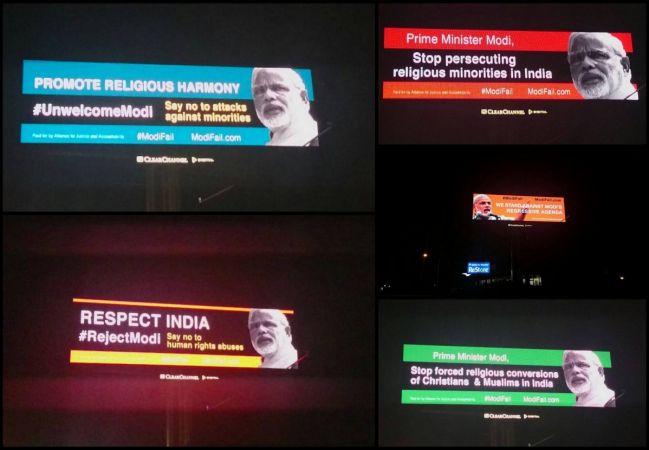 "Narendra Modi is visiting Silicon Valley to talk about Digital India, but we are worried by his record. Digital Indians deserve strong privacy and free speech protection," Anirvan Chatterjee of AJA said.
Dozens of electronic hoardings with messages such as "Respect India #RejectModi Say no to human rights abuses" have been put up on San Jose streets. Another protest banner reads "Prime Minister Modi, Stop forced religious conversions of Christians and Muslims in India".
The group also pointed out that Modi, who was banned by the United States government from entering the country for his alleged role in the 2002 Gujarat riots currently enjoys "diplomatic immunity".
Since getting elected, India has witnessed an increase in violence against Christians, Muslims, Sikhs, Dalits and other marginalised communities, the US-based anti-Modi group claimed.
AJA emphasised in its statement that while Modi is being welcomed at SAP Center in San Jose as part of his global PR campaign, it will assemble in "safe permitted free speech areas" to tell people about the "other side of the story".
The group has also launched a website--Modifail.com--to expose the "false claims perpetuated" by the Modi government.