Last Updated On 03 May,2015 About 0 seconds from now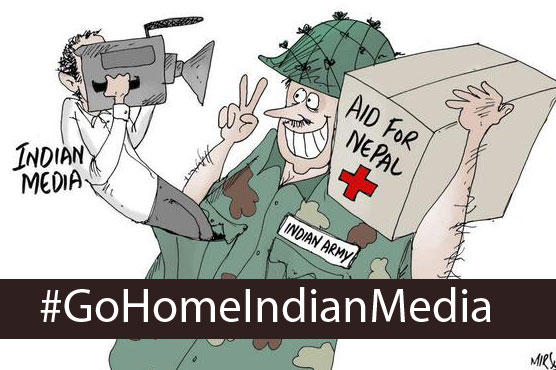 Nepalis have trended #GoHomeIndianMedia to criticize Indian media's sensational coverage
(Web Desk) -- The Nepali internet users on Sunday trended #GoHomeIndianMedia to mock Indian media and relief workers for staging more photo ops than participating in actual relief work in the quake-hit Nepal.
Nepalis have complained of Indian media – notorious for their sensationalist coverage – covering the earthquake and relief activities like it is a TV serial using their infamous visual and sound effects.
Nepali Twitterati also complained that Indian media's coverage has been more concentrated on how India is participating in the relief activities instead of reporting real issues faced by the earthquake affectees.
Here are some of the tweets as originally gathered by an Indian online publication Scroll.in.
Indian earthquake relief is one thing, Indian (tv) media coverage of it quite something else. Cartoon by @mirsuhail pic.twitter.com/YWZTwvZJa4
— Kanak Mani Dixit (@KanakManiDixit)
May 1, 2015
A chopper full of cameramen who couldn t care to carry with them a bottle of water or first aid kit , we don t need! #GoHomeIndianMedia
— prakriti khadka (@khadka_prakriti)
May 3, 2015
Even the enemies forget their national interests during natural disaster. But see what you are doing? #Shame #GoHomeIndianMedia
— (@skyasesh)
May 3, 2015
For all Indian media who ask us "aapko kysa lag raha hey ? " my back question for you" ghar kab ja rahe ho?" :P #GoHomeIndianMedia
— ASHISH ACHARYA (@sk__fan)
May 3, 2015
An indian news reporter to a mother who s learnt her only son has been buried under their house. Q. How do you feel? #GoHomeIndianMedia
— Prasanna KC (@KC_Prasanna)
May 3, 2015
Through this fb status it is prove that Indian Media & Modi is not for humanitarian help! #Shame #GoHomeIndianMedia pic.twitter.com/JVIWYVRdJB
— #HelpForNepal (@pathaksummit)
May 3, 2015